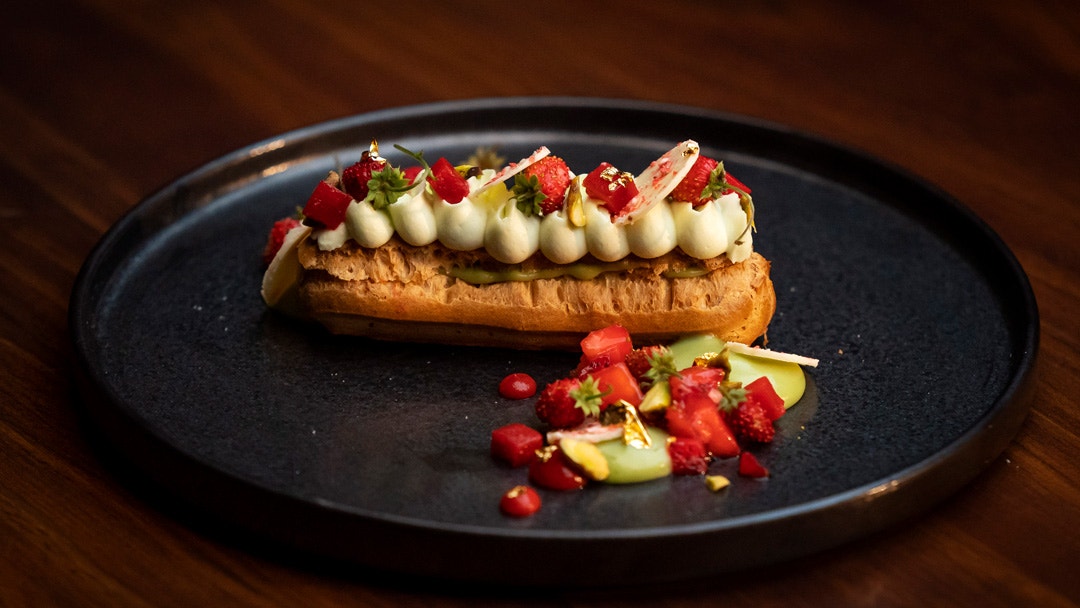 Ingredients
Pistachio Creme Patisserie
Steps
Preheat oven to 180C.
For the Eclairs, place the water, butter, sugar and salt into a medium saucepan and bring to the boil. Once rapidly boiling, add in the flour and stir and cook for 1-2 minutes or until the flour begins to stick to the bottom of the pan.
Remove from the heat and transfer to the bowl of a stand mixer fitted with the paddle attachment and beat to release steam. Once steam has evaporated, add eggs one at a time and beat well before adding each one.
Once all of the eggs are incorporated, transfer to a piping bag fitted with a French star tip.
Pipe 7cm lengths of dough onto a perforated silicone mat.
Bake in the oven until dark golden in colour, about 40 minutes. Remove from the oven and set aside to cool.
For the Sour Strawberry Gel, place strawberries and sugar into a small saucepan and bring to a rapid boil. Once rapidly boiling, add the agar agar. Whisk until thoroughly combined and boil for 1-2 minutes to activate.
Remove from the heat and process with a stick blender. Add the citric acid a little at a time, to taste. Pour into a shallow tray and allow to set at room temperature. Once set, cut one third of the jelly into small dice and set aside.
Place the remainder of the gel into the canister of a stick blender and process to a smooth gel. Pass through a fine sieve and transfer to a piping bag. Set aside.
For the Pistachio Creme Patisserie, place the eggs, plain flour and caster sugar in a medium bowl and mix together to a smooth paste. Whisk in the milk and pistachio paste.
Transfer to a saucepan and bring to the boil, stirring continuously until it forms a thick paste, about 5-6 minutes.
Transfer to a bowl and using a stick blender, blend in the chilled butter. Set aside in the fridge to cool, preferably overnight.
For the Whipped Ganache, place ingredients into a small microwave safe bowl and melt in the microwave in 30 second bursts. Stir to combine and set aside in the fridge to chill completely, preferably overnight.
Once chilled and firm, place into the bowl of an electric mixer fitted with a whisk attachment. Whisk briefly until just fluffy. Transfer to a piping bag fitted with a 1cm round piping nozzle and set aside in the fridge.
For the Tempered Chocolate Discs, place the callets into a plastic microwave safe bowl. Melt in the microwave in 30 second bursts until the chocolate is 75% melted. Stir until completely melted then spread thinly onto a sheet of acetate or baking paper. Sprinkle with strawberry powder and set aside until set. Heat a 2cm metal ring cutter and cut out circles.
To serve, split the eclairs in half lengthways. Pipe Strawberry Gel and Pistachio Creme Patisserie into the bases. Cover with eclair tops. Pipe Whipped Ganache on top. Decorate with cubes of Sour Strawberry Gel, wild strawberries, gold leaf and Tempered Chocolate Discs.