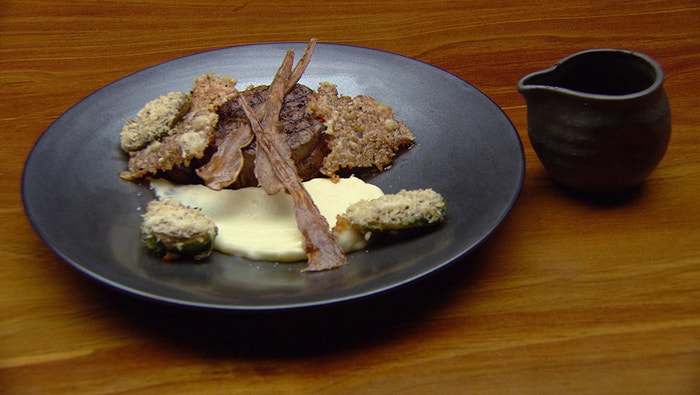 Steps
Preheat oven to 180C.
For the Red Wine Jus, place bones and oil into a large frypan and cook over medium high heat until browned. Add shallots and cook, stirring, until slightly softened. Add red wine and cook until reduced by half. Add stock and thyme and boil until liquid has reduced by three quarters to about 1 cup, about 25 minutes. Strain though a fine sieve into a small saucepan and return to heat. Bring to a simmer, add peppercorns and butter, and whisk to combine. Pour into a jug and set aside, keeping warm, until serving.
For the Parsnip Puree, peel, core and dice parsnips and place in a medium saucepan. Add milk and salt and set over medium heat. Bring to a simmer and cook until soft, about 20-25 minutes. Strain, reserving milk.
Transfer parsnip to a food processor, add butter and process, adding a little reserved milk if required, until a smooth soft puree. Season with salt and set aside, keeping warm, until serving.
For the Parmesan Crusted Brussels Sprouts, cut Brussels sprouts in half. Add oil to a pan and heat over a medium heat. Add Brussels sprouts, cut side down, and cook until browned.
Meanwhile, place Parmesan, panko crumbs and pepper in a bowl and stir to combine.
Turn the brussels sprouts over and add butter to pan. Allow butter to melt and foam then remove pan from the heat. Sprinkle brussels sprouts with the crumb mixture and place in oven to bake until golden brown, about 20 minutes. Set aside, keeping warm, until serving.
For the Eye Fillet, heat a griddle pan over medium high heat. Tie each eye fillet steak with string to maintain shape. Using a pestle and mortar crush the peppercorns and coriander seeds. Rub the steaks with pepper mixture, season with salt and drizzle with oil. Add steaks to the pan and cook on each side for 3-4 minutes. Transfer pan to the oven and cook for a further 3-5 minutes or until cooked to your liking. Remove steaks from pan and set aside to rest before serving.
To serve, spread Parsnip Puree on each serving plate. Add an Eye Fillet and Parmesan Crusted Brussels Sprout. Serve with the Red Wine Jus on side.