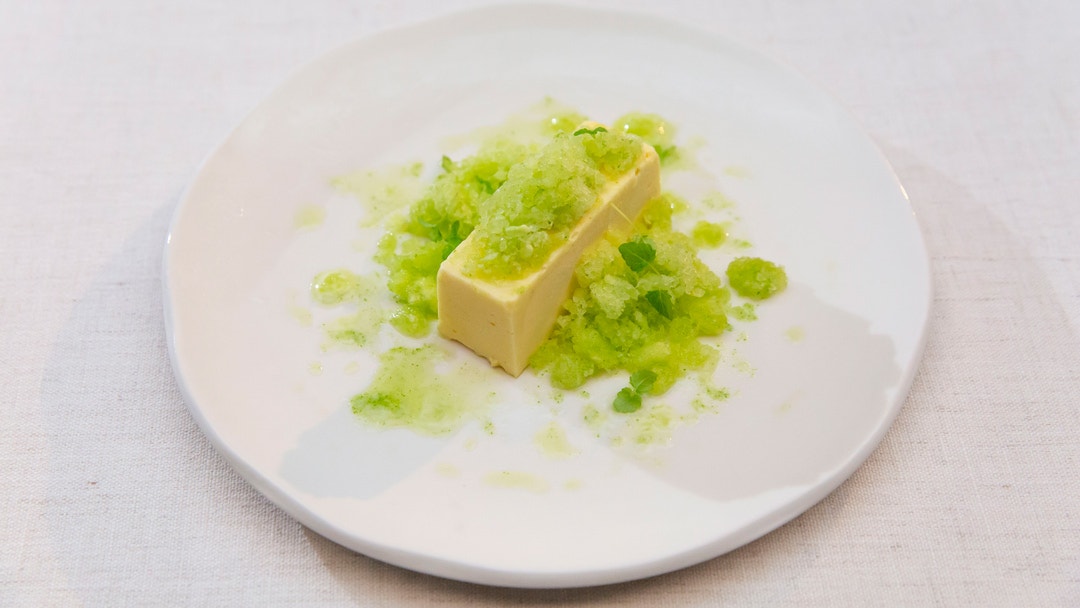 Ingredients
Passionfruit Yuzu Chiboust
Pineapple and Coriander Granita
Steps
Place serving plates into freezer to chill.
For the Passionfruit and Yuzu Chiboust, place gelatine into a bowl and cover with cold water. Allow to soften for 5 minutes then drain and squeeze gently to remove excess water.
Place passionfruit pulp, yuzu juice and cream into a small saucepan and bring to a simmer. Remove from the heat.
Place egg yolk, 25g caster sugar and cornflour into the bowl of an electric mixer and whisk until creamy.
While whisking, gradually add the hot cream mixture into the egg yolk mixture until fully combined. Return mixture to the saucepan and place over medium heat. Cook, stirring continuously, until mixture reaches 83C and is thick and creamy. Remove from the heat. Add gelatine and stir until completely dissolved. Set aside.
Place remaining 85g caster sugar and water into a saucepan and heat to 118C. Meanwhile place egg whites into the bowl of an electric mixer and once the sugar syrup has reached 115C start whisking the egg whites in a stand mixer with a whisk attachment to soft peaks.
Slowly add the 118C sugar syrup to the egg whites, whisking continuously until mixture is thick and tripled in volume.
Gently fold meringue mixture in 3 stages into the passionfruit mixture until all combined.
Spoon into ten 8cmx3cm rectangular silicon moulds and scrape away the excess mixture. Cover with baking paper and freeze until solid. Unmould the chiboust onto a lined baking tray and keep in the freezer until required.
For the Pineapple and Coriander Granita, juice the pineapple and place into a blender with the coriander.
Process until fully combined then pass through a fine strainer into a shallow baking tray.
Place in the freezer until frozen. Using a fork, scrape surface to form ice crystals and keep in the freezer until ready to serve.
To serve, place the Chiboust onto the frozen plates with a generous spoon of Pineapple Coriander Granita. Garnish with lemon balm leaves and serve immediately.