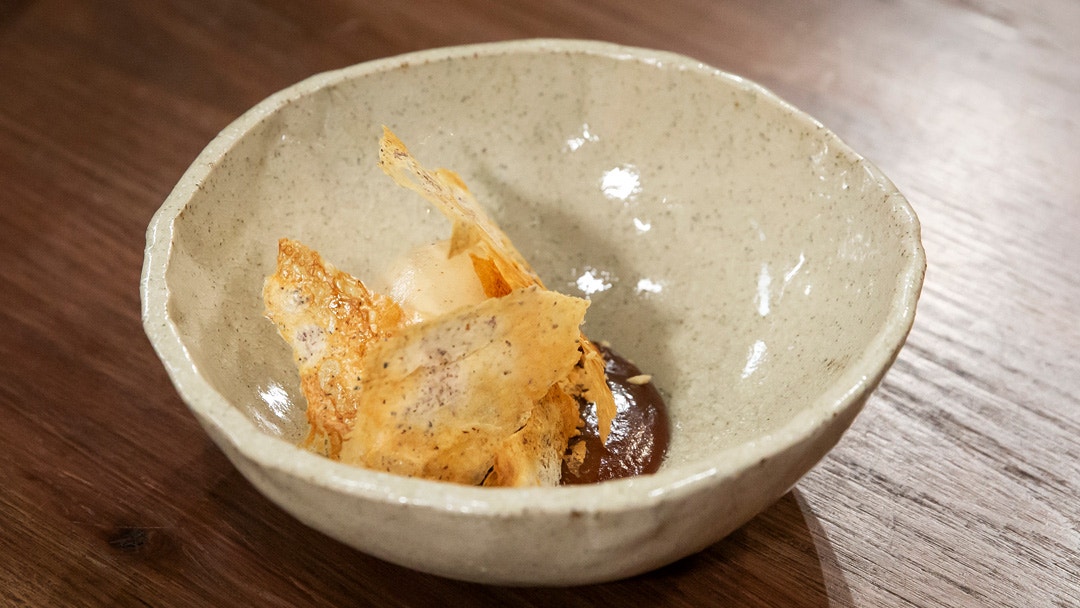 Ingredients
Salted Hazelnut Ice Cream
Steps
Prechill ice cream machine. Preheat oven to 180C.
For the Salted Hazelnut Ice Cream, place milk and hazelnuts into a high speed blender and process to form a hazelnut milk. Pass through a lined sieve and set aside 250ml.
Place sugar and egg yolks into the bowl of an electric mixer and whisk until creamy and fluffy. Add the hazelnut milk, cream, wattleseed and a pinch of salt and mix to combine. Pour into a saucepan and cook over medium heat until mixture reaches 83C. Remove from the heat.
Pass through a fine sieve into a bowl and place over an ice bath to cool.
Pour into ice cream machine and churn according to manufacturer's instructions. Set aside in the freezer until required.
For the Wattleseed Skins, place milk and wattleseed into a large frypan, stir to combine and bring to the boil.
Lightly spray baking paper with oil and once a milk skin forms on top of the milk, gather the skin by pressing the oiled side of the paper onto it. Transfer to a tray, milk skin side up and bake until golden and crisp, about 10 minutes. Remove from the oven and set aside to cool.
For the Parsnip Caramel, place parsnip and milk into a saucepan and simmer until tender, about 10 minutes. Remove from the heat. Drain and reserve milk then transfer parsnip to the canister of a stick blender and process until smooth, adding a little reserved milk if required.
Meanwhile, place sugar and water into a medium frypan and cook to a very dark caramel. Add butter, whisk to combine and remove from heat. Mix into parsnip puree with a good pinch of salt.
To serve, place a large spoonful of Parsnip Caramel on each plate. Sprinkle with hazelnuts and a little salt. Top with a scoop of Salted Hazelnut Ice Cream and garnish with Wattleseed Milk Skins.