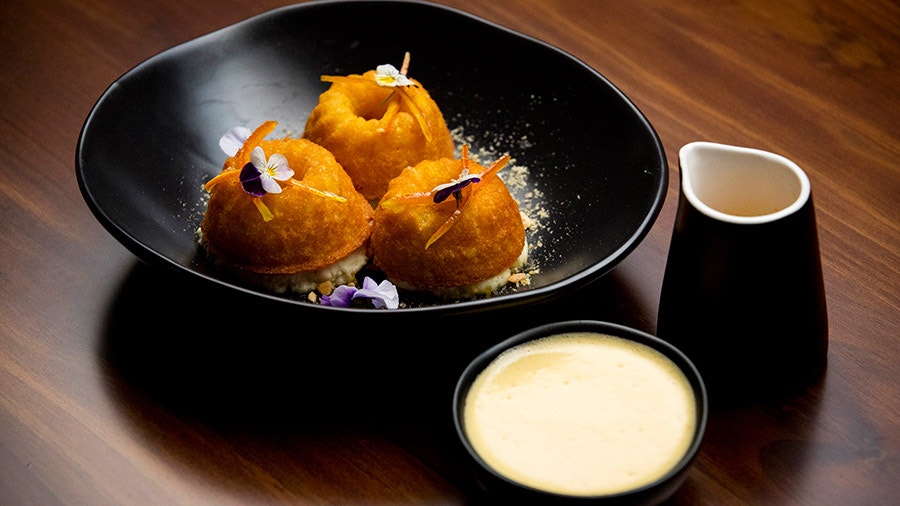 Steps
Pre-heat oven to 160C. Spray 6 mini bundt tins with cooking spray.
For the Orange Cake, cut orange into 3. Set aside 2 pieces for Candied Orange Peel. Place the remaining orange piece (one-third of the original orange) into food processor and pulse till roughly chopped.
Add butter and process until just combined. Add remaining ingredients and process until mixture is thick and well combined.
Fill prepared tins with cake batter to ¾ full.
Place in the oven and bake until cake springs back when lightly pressed, about 15-20 minutes. Remove from oven, allow to cool slightly then invert onto a wire rack. Set aside to cool. Increase oven to 180C.
For the Orange Syrup, place orange juice and sugar into a small saucepan and simmer over medium heat until reduced by half, about 3 minutes.
Remove from heat, add butter and stir until smooth. Pour into a small serving jug and set aside.
For the Almond Praline, place almonds on a tray lined with baking paper. Place into oven and bake until slightly browned and toasted, about 10 minutes. Remove from oven and set aside.
Place sugar into a saucepan over medium heat until sugar has melted and reached a golden colour.
Pour melted sugar evenly over over toasted almonds and set aside to cool.
When cooled break into pieces and place in a mortar and pestle. Grind until fine crumbs are reached. Set aside.
For the Candied Orange Peel, remove orange peel from 2 reserved orange pieces. Remove pith and slice peel finely, lengthways, into 12.
Place sugar and water into a small saucepan and bring to a boil.
Add orange peel slices and simmer for 10-12 minutes until peel is soft and translucent. Set aside.
For the Mascarpone Cream, place mascarpone cheese, icing sugar and vanilla seeds into a bowl and mix until well combined. Set aside.
For the Zabaglione, bring a small saucepan of water to a gentle simmer. Place the yolks, sugar and Marsala into a bowl and place over simmering water, ensuring the bottom of the bowl doesn't touch the water. Whisk constantly until the mixture becomes light and fluffy and doubles in size. Transfer to 6 small ramekins.
To serve, spread Mascarpone Cream in a round on each serving plate and top with an Orange Cake.
Arrange 2 candied orange peels on each cake and sprinkle praline over plate.
Place one edible flower on each cake and sprinkle a few around the plate.
Serve with Zabaglione on the side.