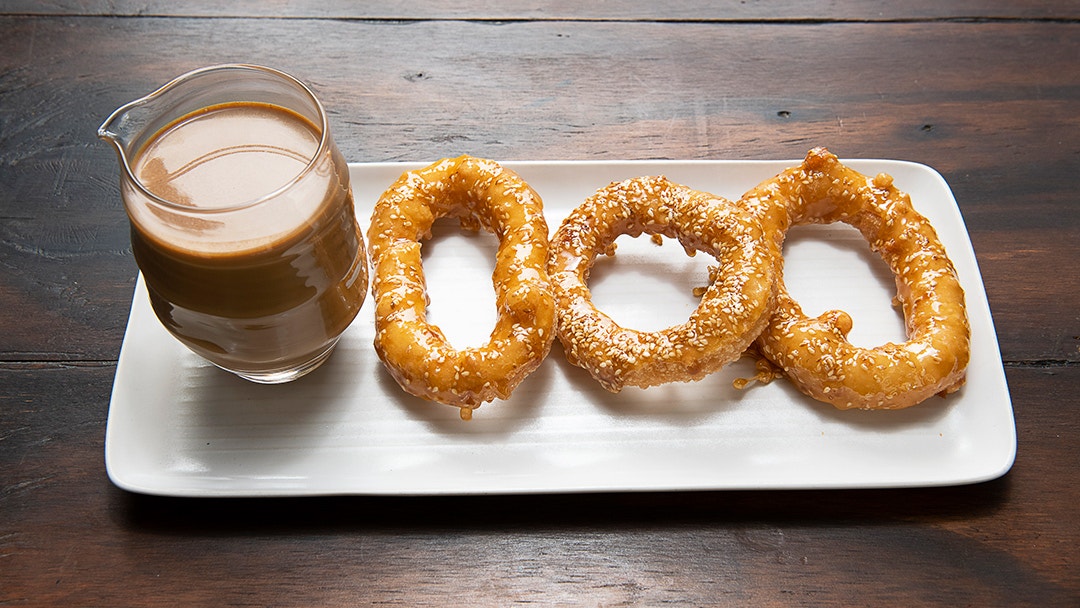 Ingredients
Noum Kong (Cambodian Doughnuts)
Steps
Preheat oil in deep fryer to 160°C.
For the Doughnuts, combine rice flours, sugar and salt in a mixing bowl. Gradually add in coconut milk, mixing until a smooth soft dough forms and starts to pull away from the inside of the bowl. Cover the bowl with cling wrap and set aside for at least 15-20 minutes.
Divide dough into 10 equal pieces then roll each portion into a ball. Lightly dust a clean work surface with rice flour then press down into the centre of a ball. Swirl your finger to create in a circular motion to gradually create an 8cm wide ring of dough. Repeat with remaining dough.
Place each doughnut into the deep fryer one at a time. Once you start to see a light crust forming around the dough, add the next doughnut into the deep fryer. Fry each doughnut until cooked through and golden brown, about 8-10 minutes. Continue flipping them around in the deep fryer during this time to ensure they cook evenly. Remove from the oil place onto a cooling rack.
For the Glaze, place the sesame seeds in a dry pan over medium to high heat and toast until golden brown. Remove the sesame seeds from the pan and set aside.
Return pan to the heat. Add the palm sugar and allow to melt and bubble, swirling pan to ensure sugar has evenly melted. Once the palm sugar has become slightly darker in colour, add sesame seeds and stir until evenly mixed. Reduce the heat to low and continue to maintain the consistency of the glaze so it is lightly runny but not firm. Dunk one side of the donuts into the warm glaze and return to the rack, glaze side up, to cool.
For the Vietnamese Iced Coffee, place coffee into a tall heatproof jug with hot water and stir until the coffee has dissolved. Once dissolved, add condensed milk and milk and mix until thoroughly combined. Fill glasses with ice and pour in the coffee. Serve immediately with the doughnuts on the side.