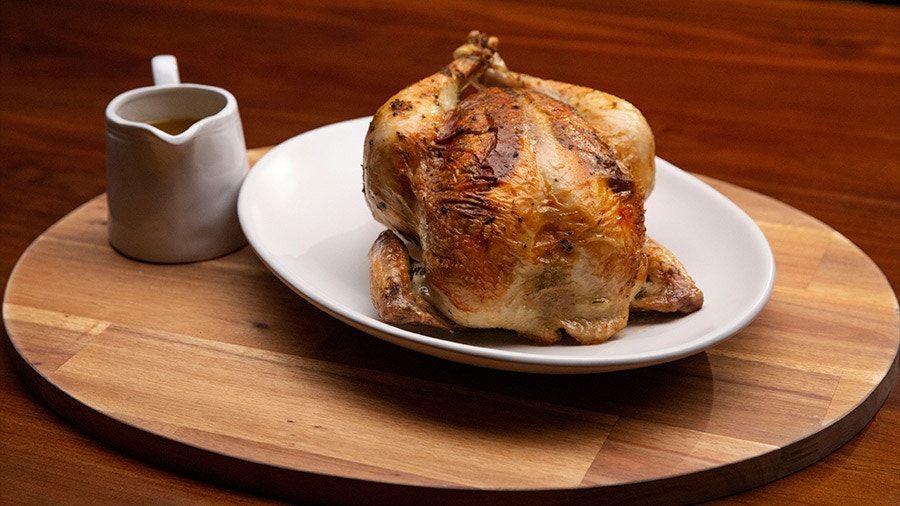 Steps
Preheat the oven to 220°C.
Add the onion, carrot and garlic into the roasting tray.
For the Tarragon Butter, strip the leaves from tarragon sprigs, placing the stalks into the roasting dish. Very finely chop the tarragon leaves.
In a small bowl, combine the chopped tarragon, softened butter, salt flakes and a good grind of fresh white pepper and mix until well combined. Add the sherry and mix through.
Use your fingers to carefully separate the skin from the chicken breast to create a pocket. Make sure not to tear the skin.
Lift the skin of the chicken and carefully spread the butter evenly between the skin and the breast. Massage the whole chicken with the butter left on your hands and in the bowl.
Place the half lemon and 1 tarragon sprig into the chicken cavity.
Truss the legs with twine and place the chicken in the roasting dish.
Roast the chicken for 1 hour, rotating the roasting dish halfway through to encourage even colouring of the chicken. The chicken should be golden brown.
Meanwhile, start working on your sides.
Five minutes before the end of the chicken cooking time, add the wine to the roasting dish around the chicken, to deglaze. Shake the dish to gently lift any sediment. Add the chicken stock to the dish. Roast all for a further 5 minutes.
When the chicken is cooked, transfer to the serving plate and leave to rest.
Reserve the stock from underneath the chicken to make your gravy.
Serve the roast chicken with 2 sides and your gravy.