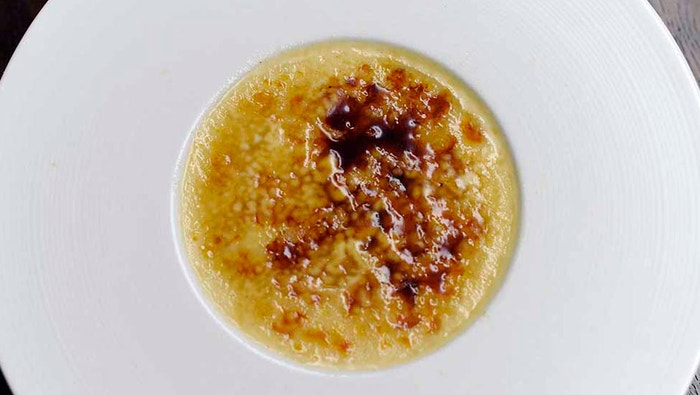 Steps
Turn on ice cream machine to chill.
For the Ice Cream, warm milk, vanilla and 1tbsp of the caster sugar in a small saucepan over medium heat.
In a separate bowl, whisk remaining sugar and egg yolks until pale. Pour into milk mixture over medium heat and stir until mixture coats the back of a spoon. Strain through a fine sieve into a clean bowl and whisk over an ice bath until cool.
Add mascarpone and whisk until completely combined then transfer to ice cream machine and churn until set, about 30 minutes.
For the Brulee, soak gelatine in a bowl of cold water and set aside.
Place pure cream, marsala, cinnamon stick and ground cinnamon in a small saucepan over low heat and bring to a simmer.
Meanwhile, whisk egg yolks and sugar in separate bowl until pale. Add to warm cream mixture and whisk over low heat until mixture coats the back of a spoon. Remove from heat. Squeeze out gelatine to remove excess moisture and add to the warm mixture. Whisk until gelatine has completely dissolved. Strain into a clean bowl and whisk in thickened cream.
Pour into 6 shallow bowls and place in the fridge until set, about 90 minutes.
For the Marsala Figs, heat marsala, butter and sugar in a medium saucepan until dissolved. Add figs and cook gently until slightly softened. Remove from heat and stir in lemon zest. Set aside.
To serve, remove Brulees from the fridge. Sprinkle caster sugar over the surface of each Brulee and caramelise using a blowtorch. Spoon some Marsala Figs onto the side of each Brulee and top with a quenelle of the Ice Cream.