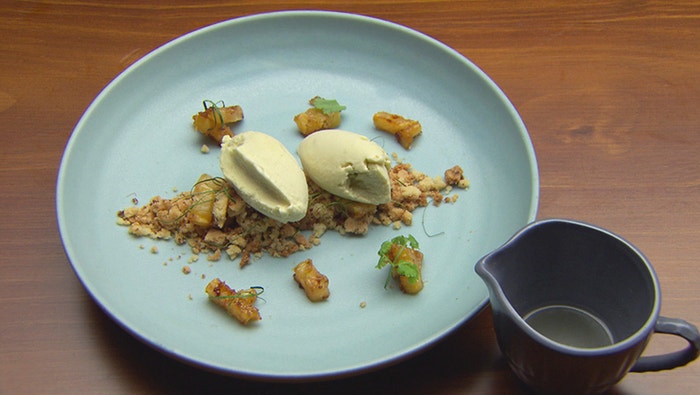 Steps
Preheat oven to 180C. Turn on ice cream machine to chill.
For the Lemongrass Ice Cream, place the cream, milk and lemongrass into a small saucepan over low heat and bring to a simmer. Remove from the heat, strain through a sieve into a clean bowl and set aside until needed.
Meanwhile, place the egg yolks and sugar into the bowl of a stand mixer fitted with a whisk attachment and whisk until pale. With the mixer running, slowly add the warm cream mixture to the egg mixture and continue to whisk until combined. Return the mixture to the saucepan over low heat and cook, stirring continuously, until the mixture reaches 80C and thickens slightly.
Remove from the heat and pass through a fine sieve into a clean bowl. Set over an ice bath to cool completely then transfer to the ice cream machine and churn until set. Once set, set aside in the freezer until needed.
For the Smashed Coconut Shortbread, use a coconut grater to grate and remove the flesh from the coconut. Reserve 40g of flesh in a small bowl for later use. Place 60g of the coconut flesh in a small frypan and cook over a low heat until golden. Remove from heat and set aside to cool.
Combine all the remaining ingredients in a bowl and use fingertips to rub the butter into the flour and sugar. Add the cooled toasted coconut and bring the mixture together to form a soft dough.
Line a baking tray with baking paper. Press the dough onto a lined baking tray and bake in the oven until just brown around the edges, about 18-20 minutes. Remove from the oven and allow to cool. Smash into a coarse crumb and set aside until needed.
For the Caramelised Pineapple, combine the reserved 40g of shredded coconut and grated palm sugar in a shallow bowl. Cut the pineapple into 2cm x 0.5cm rectangular pieces then add to the bowl of coconut and palm sugar and toss to coat.
Heat a large frypan over medium heat. Add the coated pineapple pieces and sear, turning, until golden on all sides, about 2 – 3 minutes. Remove from the heat and set aside until needed.
For the Kaffir Lime Syrup, combine all ingredients in a small saucepan. Place over a medium heat and cook until reduced to a light syrup, about 5-7 minutes. Strain into a small serving jug.
To serve, spoon a line of the Smashed Coconut Shortbread along middle of the serving plate. Place some pieces of the Caramelised Pineapple on each side of the line of Smashed Coconut Shortbread. Add some finely shredded kaffir lime leaves. Place 2 rochers of the Lemongrass Ice Cream onto the Smashed Coconut Shortbread. Serve with the Kaffir Lime Syrup in the small serving jug on the side.