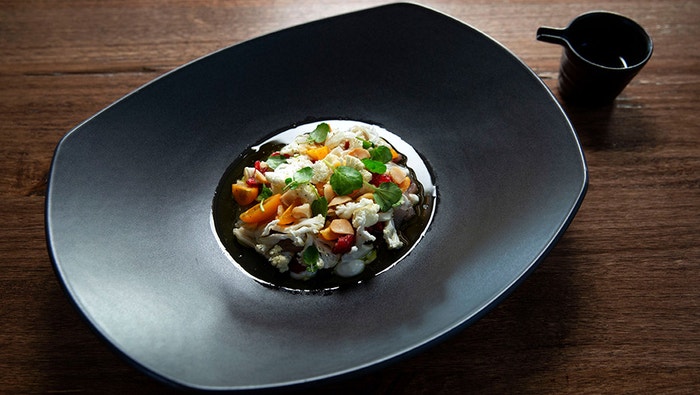 Steps
Preheat oven to 180C.
For the Macadamia Cream, place macadamias onto a tray and cook in the oven until golden brown, about 10-12 minutes. Remove from oven then transfer the macadamias to a tray and chill in the freezer.
Once cold, place the macadamias into a blender, add the lemon juice and salt and process to break macadamias down. Increase the speed of the blender and slowly add 1-2 tbsp iced water and process until emulsified and paste starts to form. Slowly add half of grapeseed oil and then another 1-2 tbsp iced water then remaining grapeseed oil. Blend then add the olive oil and process together. The cream should be a thin puree consistency. Transfer to a piping bag and place into the freezer to firm.
For the Pickled Cauliflower, combine the glucose, vinegar and water in a medium saucepan and place over medium heat. Bring to the boil then remove from the heat and add cauliflower. Allow to cool in the liquid. Drain before serving.
For the Lemon Myrtle Salt, place lemon myrtle leaves and salt into a spice grinder and blend to a fine powder. Pass through a sieve and set aside in a small bowl.
For the Lemon Myrtle Oil, place lemon myrtle leaves and olive oil into a blender and process until smooth. Pour through a muslin lined sieve into a bowl and set aside to strain.
For the Blue Eye Trevally, slice the fillet diagonally into 2mm thick slices and lay out on a tray. Sprinkle with a light even coating of Lemon Myrtle Salt then turn over and sprinkle the with Lemon Myrtle salt. Sprinkle lightly with sugar and set aside to cure for 5-10 minutes.
To serve, lay the slices of cured Blue Eye into the centre of each serving plate. Spoon Lemon Myrtle Oil around the fish. Pipe Macadamia Cream over and around the fish slices. Arrange Pickled Cauliflower between the slices fish and add cherry tomato wedges, halved raspberries. Finish with crushed macadamias and watercress leaves.