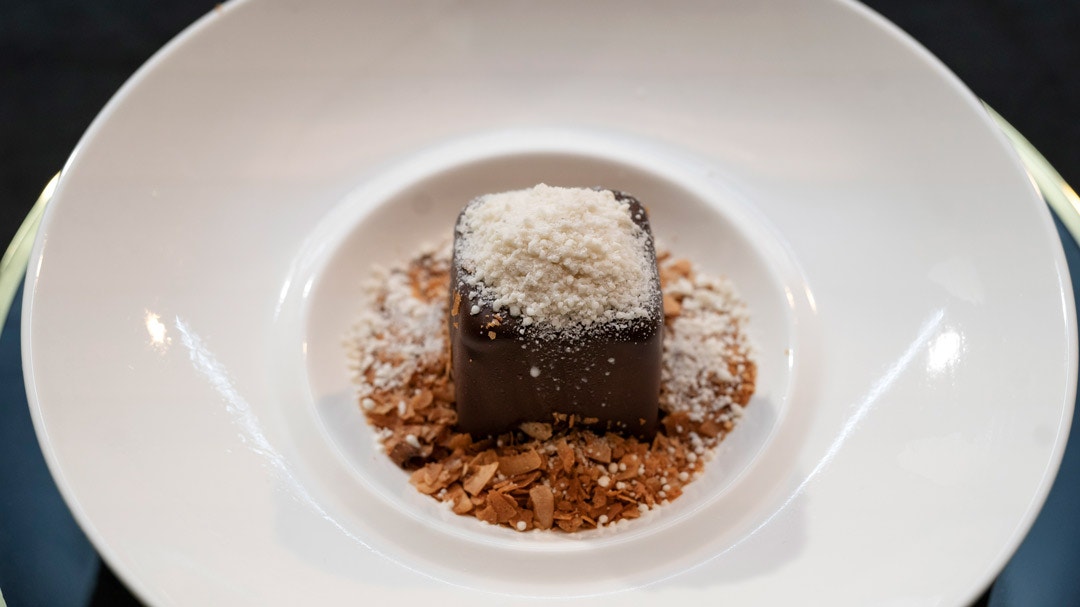 Ingredients
Strawberry and Orange Inserts
Steps
Preheat oven to 180°C fan forced.
For the Strawberry and Orange Inserts, bloom gelatine in cold water for 5 minutes.
Place sugar, half of the strawberry and cherry purees and zest into a Thermomix and process to reach 60oC.
Add drained and squeezed gelatine and process until combined. Stir in remaining puree, zest and vanilla.
Pour in 8 x 2cm silicone sphere moulds and freeze until solid.
For the Crumble, place coconut onto a tray and toast in the oven until golden, about 15 minutes. Remove from the oven and set aside to cool. Combine in a bowl with the feuilletine and salt. Set aside in an airtight container.
For the Coconut Snow, place ingredients into a blender and blend until smooth.
Half fill the bowl of a stand mixer bowl with liquid nitrogen.
Working with a small amount at a time, drip coconut mixture into the liquid nitrogen. Using a slotted spoon, lift out the frozen mixture and carefully drain any excess liquid nitrogen from the spoon. Transfer into a Thermomix and blend for a couple of seconds to the consistency of snow then pour into a tray and reserve in freezer. Repeat with remaining mixture.
For the Chocolate Mousse, bloom gelatine in iced water for 5 minutes. Set aside 1 tablespoon of cream then whisk the remaining cream to medium peaks and set aside.
Whisk yolks in a bowl until light and fluffy.
In the meantime, boil water and sugar to 118oC.
Slowly pour into eggs, whisking continuously until mixture thickens and cools to room temperature.
Melt chocolates together in a bowl over simmering water. Stir through the reserved cream. Remove from the heat.
Drain the gelatine and squeeze out excess water. Place into a small pan over low heat and stir until just melted.
Fold through the egg mix then fold in chocolate. Fold in the whipped cream and transfer to a piping bag.
Pipe mousse into 8 x 5cm cube moulds until 2/3's full. Push in frozen strawberry orange insert then cover with remaining mousse. Level the surface then place into the freezer until set.
For the Chocolate Dip, combine cocoa butter and chocolate in the canister and melt slowly in the microwave until melted, smooth and the temperature is 40oC. Add ground cardamom and blend until incorporated.
Unmould lamingtons and using a skewer placed into each, lower into the chocolate dip until fully coated. Drain excess then place onto a lined baking tray. Remove the skewer and return the tray to the freezer to set for 10 minutes. Transfer the tray to the fridge to temper for 2 hours before serving.
To serve, place a spoonful of crumble onto each plate. Place a lamington cube on top then finish with a spoonful of coconut snow.