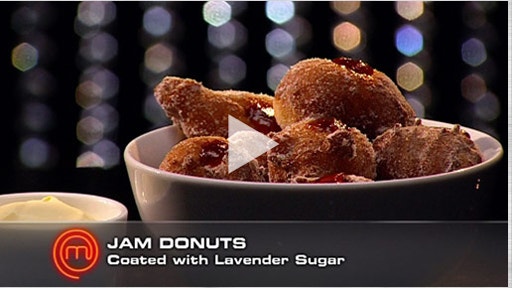 Steps
Heat milk in a saucepan until tepid (37°C on a thermometer). Whisk in the butter, caster sugar and eggs. Place the yeast into a bowl and about ½ cup of the milk mixture. Break up the yeast with your hands to form a smooth paste. Transfer to the milk mixture, whisking to combine. Combine flour and ½ teaspoon of salt in a large bowl and make a well in the centre. Gradually pour in the milk mixture, whisking until smooth. Cover and set aside in a warm place to prove for 45 minutes - 1 hour.
Meanwhile, for the lavender sugar, combine lavender flowers with sugar in a large bowl, rub together with your hands until flowers are bruised. Set aside for 15-20 minutes to infuse.
Pour oil into a saucepan until one-third full. Heat over medium-high heat until 165°C. Spoon donut mixture into 4cm round balls into the hot oil. Cook for 3-4 minutes until golden and cooked through. Remove, drain on paper towel, then toss in the lavender sugar.
Spoon jam in a small piping bag with a 5mm straight-edged nozzle. Push nozzle into the centre of each donut and pipe enough jam to fill.
Serve donuts with clotted cream.