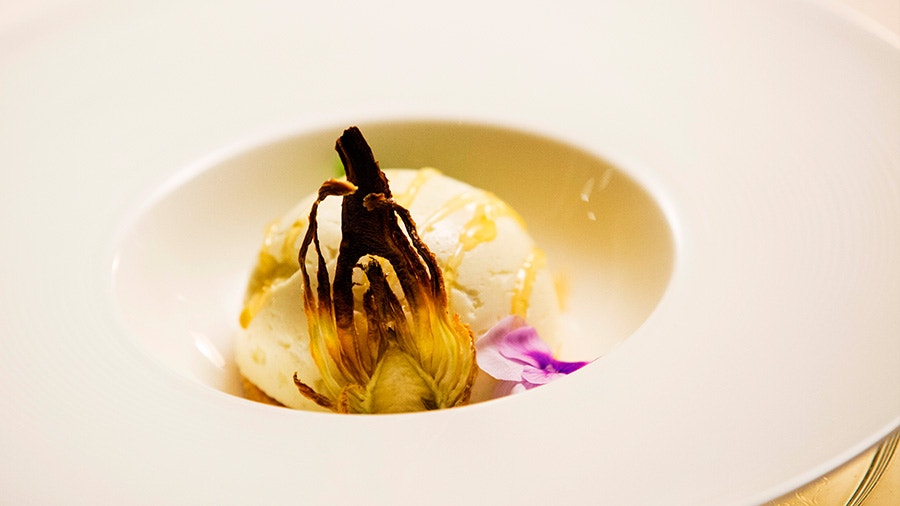 Steps
Preheat oven to 180C.
For the Cinnamon Pastry, place flour, butter, sugar, salt and cinnamon into a food processor and pulse to combine. Add egg yolk, pulse, then add 1 tablespoon of cold water and pulse to combine. Transfer to a clean work surface and knead until dough just comes together. Wrap in cling film and set aside in the fridge to rest for 60 minutes.
Remove from the fridge and unwrap. Roll out to 3mm thickness and transfer to a baking tray lined with baking paper. Bake until golden, about 10-12 minutes.
Remove from oven and allow to cool slightly. Use a 6cm round cutter to cut out 4 discs of pastry. Discard surrounding pastry and set discs aside to cool.
For the Nougat, place cream into a stand mixer fitted with a whisk attachment and whip to soft peaks. Set aside.
Place glucose and 50ml water in a small saucepan over medium heat and heat to 120C.
Meanwhile, place egg whites into a stand mixer fitted with a whisk attachment and whisk to soft peaks. With the mixer running on half speed, slowly pour in the 120C sugar syrup. Continue to whisk on high until mixture has cooled and is thick and glossy. Add whipped cream and ground fennel and gently fold through until combined. Spoon into four 6cm dome moulds and place in the freezer to set.
For the Apple Jelly, place gelatine into a bowl of iced water and set aside to bloom.
Juice apple and spinach and pass through a fine sieve. Transfer juice to a small saucepan over low heat and bring to a simmer. Add sugar and stir until dissolved then remove from the heat. Squeeze out gelatine to remove excess water, add to the saucepan and stir until dissolved. Strain through a fine sieve and pour into a tray of 2cm dome moulds. Place into the freezer to set.
For the Lemon Syrup, place lemon juice and sugar into a small saucepan and stir to combine. Place over low heat and simmer to a syrup consistency, about 15-20 minutes. Remove from heat and set aside.
For the Caramelised Fennel, spread sliced fennel onto a baking tray lined with baking paper. Sprinkle with sugar then transfer to the oven and bake until golden and crispy, about 12-15 minutes. Remove from the oven and set aside to cool.
To serve, remove Nougat domes from the freezer. With the Nougat still in the mould, use a large melon baller to scoop out the center of each dome. Unmould Apple Jelly domes and push one into each of the Nougat center holes. Place a disc of the Cinnamon Pastry into the middle of the bowl, then unmould filled Nougat domes and sit on top of the Cinnamon Pastry disc. Drizzle Nougat dome with Lemon Syrup and place a slice of Caramelised Fennel to the side. Finish with edible flowers.