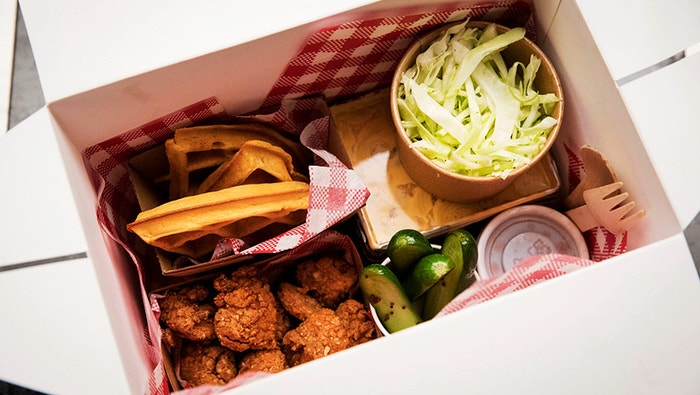 Steps
For the Fried Chicken, combine buttermilk, garlic cloves, onion and sriracha hot sauce in a medium bowl and stir well to combine. Slice the chicken breasts length ways into approximately 2cm slices and then cut each slice into 3 chunks. Add to the bowl of buttermilk brine, cover with cling film and set aside in fridge to marinate for 45-60 minutes.
Place oil into a medium sized saucepan or deep fryer and heat to 180C.
Place all of the dry ingredients into a large zip lock bag, seal, and shake well to combine.
To make the egg wash mixture, place eggs and hot sauce into a medium bowl and whisk to combine.
Remove chicken pieces from the buttermilk, allowing excess to drain off, and place into the seasoned crumb mixture until well coated. Remove chicken pieces from the bag, add to the egg wash and toss until well coated. Place chicken pieces back into the zip lock bag of dry coating and shake, ensuring pieces are well coated.
Spread the chicken pieces onto a baking tray lined with baking paper. Rest on the baking tray for at least 10 minutes. Once rested, drop chicken pieces, one piece at a time, into the hot oil. Cook in batches of 5 pieces until golden brown and cooked through, about 3-4 minutes. Remove from the hot oil and place onto a baking rack to rest.
For the Spicy Bourbon Syrup, add the honey, maple syrup and bourbon to a small saucepan over medium heat and bring to a simmer. Remove from the heat, whisk in spices and set aside for at least 20 minutes. Strain into a clean jug or ramekin before serving.
For the Pickled Baby Cucumbers, place water, vinegar and sugar into a small saucepan and bring to a simmer. Add herbs and spices and continue to heat until the sugar has dissolved. Remove the pot from the heat and set aside for 5 minutes to cool slightly.
Cut the baby cucumbers in half, lengthways, and place into a small bowl. Pour the slightly cooled pickling liquid over the cucumbers and set aside in the fridge for at least 20 minutes.
For the Coleslaw, finely slice cabbage, fennel, apple, tomato and celery and place into a small ramekin. Set aside.
Place grapeseed oil, apple cider vinegar, honey, celery salt, sea salt, pepper and juice of the lemon into a small jar. Shake vigorously until well combined and set aside.
For the Buttermilk Waffles, preheat waffle iron.
Separate eggs into 2 bowls. Place the egg whites into a stand mixer fitted with a whisk attachment and whisk to stiff peaks. Set aside.
Add buttermilk and melted butter to bowl with the egg yolk and mix to combine. Sieve the flour, baking powder, baking soda and salt into the mixture and mix until well combined. Gently fold in the reserved egg whites.
Lightly spray waffle iron with canola oil, add waffle batter, and cook until golden brown, about 2-3 minutes. Repeat with remaining batter.
For the Macaroni and Cheese, add pasta to the preheated boiling water and cook until al dente, about 8-10 minutes. Strain and set aside until needed.
Meanwhile, place the tasty, vintage cheddar and gruyere into a food processor and blitz to a rough crumb.
Melt the butter in a medium sized saucepan over medium heat. Add flour and spices, reduce heat to low and cook, stirring, for 1-2 minutes. Gradually add the milk while stirring continuously until combined and smooth.
Bring the heat back up to medium and add the crumbled cheeses and the cream cheese. Stir until melted and smooth. Remove from the heat, add the pasta and stir until completely coated.
To serve, season the Fried Chicken well with sea salt. Strain Spicy Bourbon Syrup into a ramekin. Strain the Pickled Baby Cucumbers from the pickling juice and place into serving bowl. Place Macaroni and Cheese into a serving bowl. Cut the Buttermilk Waffles into quarters and place into a small bowl. Dress the Coleslaw and toss to coat.