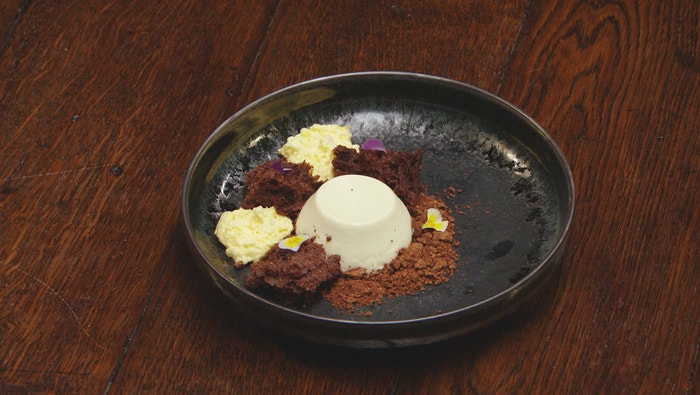 Steps
For the Earl Grey Panna Cotta, prepare an ice bath in a medium bowl.
Place the cream, milk, tea and icing sugar into a small saucepan and heat to 80C. Remove from the heat and set aside to infuse for 5 minutes.
Drain the gelatine and squeeze to remove excess water. Add the gelatine to the hot cream mixture and whisk until gelatine has dissolved. Strain through a fine muslin lined sieve into a medium bowl.
Place over the ice bath, whisking regularly, to cool, without allowing to set. Pour into six 5.5cm high x 120ml capacity dariole moulds. Place onto a tray and into the freezer for 15 minutes. Transfer to the fridge until set.
For the Chocolate Sponge, place the ingredients into a blender and process until smooth and thoroughly combined.
Pour the mixture into a 500ml cream whipper canister. Charge with 3 bulbs, shaking the canister thoroughly after each charge.
Dispense mixture into a paper cups until ¾ full. Microwave for 50 seconds. Remove from the microwave and set aside to cool. Repeat with remaining mixture. Once cool, break into pieces.
For the Chocolate Soil, place the sugar and 2 tablespoons of water into a small saucepan. Place over low heat and cook until an amber coloured caramel forms.
Remove from the heat and add the chocolate, whisking vigorously, until a crumb forms. Set aside to cool.
For the Orange Cream, bring water to a simmer in a medium saucepan. Place the ingredients into a medium bowl and place over the simmering water without letting the base of the bowl touch the water.
Whisk the ingredients with an electric whisk until thickened, pale and fluffy.
Remove from the heat and place the bowl over the ice bath to cool.
Once cool, transfer the mixture to the canister of a cream whipper. Charge with 2 bulbs shaking well after each charge. Set aside in the fridge.
To serve, unmould an Earl Grey Panna Cotta onto each serving plate. Spoon some Chocolate Soil around each panna cotta. Add 3 pieces Chocolate Sponge to each plate. Dispense some Orange Cream between the sponges and garnish the plates with edible flowers.