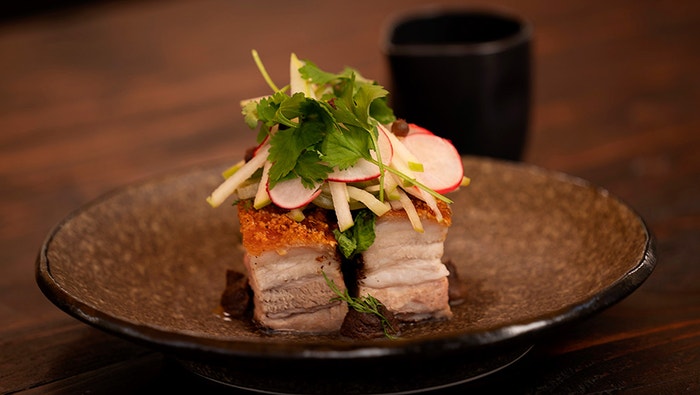 Steps
Preheat oven to 240C.
For the Crackling Pork Belly, remove bones from pork, score skin and rub generously with salt flakes. Set aside for 10 minutes until the skin starts to sweat then wipe dry with paper towel.
Meanwhile, place the cumin seeds, fennel seeds, star anise and cinnamon sticks into a pan and toast over medium heat until fragrant. Remove from heat, transfer to a spice grinder and process to a powder. Transfer to a bowl, add pepperberry and salt and stir to combine.
Rub spice mix over the flesh side of the pork then sprinkle skin generously with salt.
Place pork belly onto a wire rack and sitting over a baking tray. Place in oven to cook until tender, about 60 minutes. Reduce heat to 220C on the grill setting. Cook pork until skin is crunchy and golden crackled. Remove from oven and allow to rest, keeping warm, until serving.
For the Pickled Apples and Cucumbers, place the rice wine vinegar, apple cider vinegar and 100g water in a saucepan and set over medium heat. Bring to a boil then add cinnamon stick, star anise, bay leaves, black peppercorns and salt. Simmer until reduced by half then add sugar and continue to cook for 2 minutes. Remove from heat, strain and set aside to cool completely. Place apple and cucumber into the cooled pickling liquid set aside to pickle for 20 minutes. Drain and set aside, in fridge, until serving.
For the Apple and Muntrie Puree, place all ingredients into a medium saucepan and set over medium heat. Cook the apples until tender and soft, about 8 minutes. Remove from heat and, using a stick blender, blend until smooth. Pass through a sieve and set aside, to cool, in fridge. Transfer mixture to a piping bag and set aside until serving.
To serve, cut Cackling Pork Belly into 16 evenly sized cubes and place four cubes into the centre of each serving plate. Pipe Apple and Muntrie Puree on the plate and add Pickled Apple and Cucumber. Garnish with dill, coriander and mint leaves, radish and muntries.