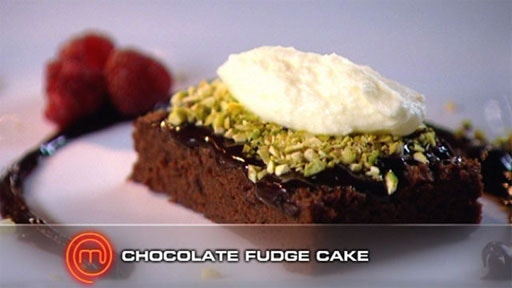 Steps
Preheat oven to 160C.
Grease and line a medium sized baking tray.
Over a double boiler, melt chocolate and butter together. When cool, mix in flour.
In a separate bowl, whisk together egg yolks and half the sugar.
Whisk egg whites in a separate bowl. When you have reached the soft peak stage, whisk in remaining sugar.
Fold egg whites into chocolate mixture.
Pour into baking tray and cover the top with baking paper to prevent a skin from forming.
Bake in oven for 30 minutes with a water bath on the tray below to keep the cake moist
Turn cake out onto a cooling rack and let cool to room temperature.
To make chocolate ganache: bring cream to a simmer and pour over chocolate. Mix to combine.
To make rose water cream: whip cream to soft peaks and then mix in rose water.
To serve, top cake with chocolate ganache, chopped pistachio nuts and rose water cream. Serve with raspberries.