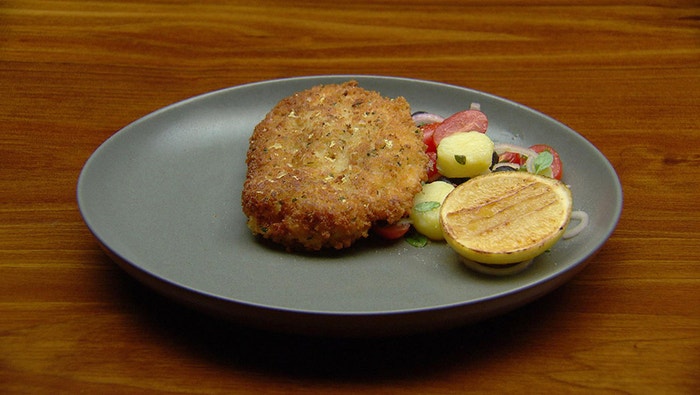 Steps
For the Cotolette, to make a brine, place 2 teaspoons of salt and 250ml hot water in a large bowl and stir until salt has dissolved. Add 500ml iced cold water, stir well and set aside.
Butterfly each chicken breast and using a meat mallet, pound out chicken to 1cm thickness. Place into the brine and set aside, in fridge, for 20-25 minutes.
Place flour into a wide, shallow bowl and season with salt and pepper.
Place eggs into another wide, shallow bowl with 2 tablespoons of water and whisk until combined.
Place bread, oregano, parmesan, lemon zest, garlic, salt and pepper in the bowl of a food processor and blitz until finely chopped. Transfer to a wide, shallow bowl.
Remove chicken from brine and pat dry with paper towel. Place each chicken fillet in seasoned flour and dust off excess. Dip into whisked eggs then place in the breadcrumbs, pressing breadcrumbs onto chicken, and ensuring chicken is evenly and well coated.
Heat grapeseed oil in a shallow frypan over medium high heat. Add chicken and cook until crumbs are golden and chicken is cooked through. Remove from oil and drain on paper towel until ready to serve.
For the Italian Potato Salad, place potatoes in a medium saucepan of cold salted water and set over high heat. Bring to a boil then reduce heat and allow to simmer until tender, about 20 - 30 minutes, depending on size. Remove from heat and drain.
Peel potatoes then slice into 1/2 cm rounds and place into a medium bowl. Drizzle with olive oil, add garlic and salt then toss gently to coat. Add remaining ingredients and toss gently until well mixed. Set aside until ready to serve.
To serve, place Potato Salad and a Cotolette on each serving plate. Sprinkle with oregano leaves and lemon zest and serve with charred lemon cheek.