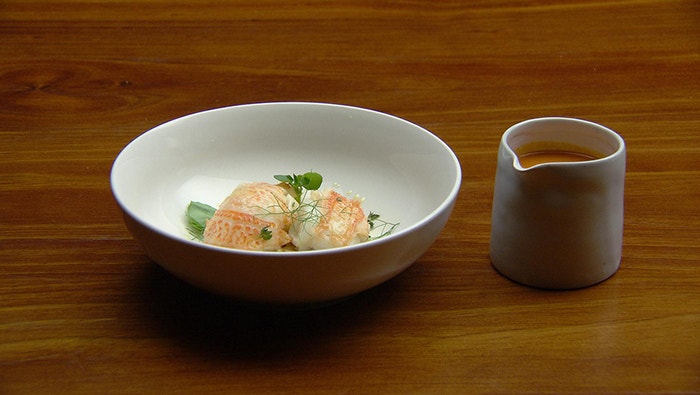 Steps
For the Confit Fennel, place olive oil, thyme, bay leaves and fennel in a small saucepan and place over medium heat. Bring to a temperature of 100C, and cook fennel for 30 minutes, while maintaining constant temperature.
Heat a griddle pan over high heat. Remove fennel from oil, allowing excess oil to drain. Cook fennel in griddle pan until lightly charred, about 1 minute on each side. Remove from pan and season with salt. Cover loosely with foil and set aside until serving.
For the Butter Poached Lobster, separate the tail from the head with a knife. Clean head, finely chop and set aside for Bouillabaisse Sauce.
Fill a large saucepan with water and season generously with salt. Set over high heat and bring to a boil. Add lobster tail and cook for 4 minutes. Remove tail and plunge immediately into ice bath to refresh.
Crack the tail open carefully and remove the tail meat in one piece. Cut into 8 medallions and set aside, in fridge, until serving. Roughly chop the tail shell and reserve for the Bouillabaisse sauce.
For the Bouillabaisse sauce, add olive oil to a large saucepan and set over medium heat. Add, onion and fennel and cook, stirring, without browning, until soft, about 5 minutes. Add garlic, tomato paste and cherry tomatoes and cook until liquid has mostly reduced, about 5-10 minutes. Add prawns, pipis and chopped shell and head and cook for a further 10 minutes. Add vermouth and Pernod and cook until reduced and syrupy. Add fish stock, 3 sprigs of thyme, bay leaves, saffron, cayenne pepper and 1 cup water. Bring to a boil, reduce heat and simmer for a further 30 minutes.
Remove from heat and strain into a large bowl. Add leaves from remaining sprig of thyme and process with a hand blender until smooth. Season with lemon juice, salt, pepper and sugar, if required. Transfer to a pouring jug and set aside, keeping warm, until serving.
To finish lobster for serving, place butter in a saucepan and melt over low heat. Continue to heat until 75C. Add lobster medallions and cook, spooning butter over lobster until just cooked through, about 5 minutes. Remove from heat and season with salt flakes.
To serve, place Confit Fennel into the base of each serving bowl and top with Butter Poached Lobster. Garnish with thyme leaves, fennel fronds and watercress leaves. Serve with hot Bouillabaisse Sauce on the side.