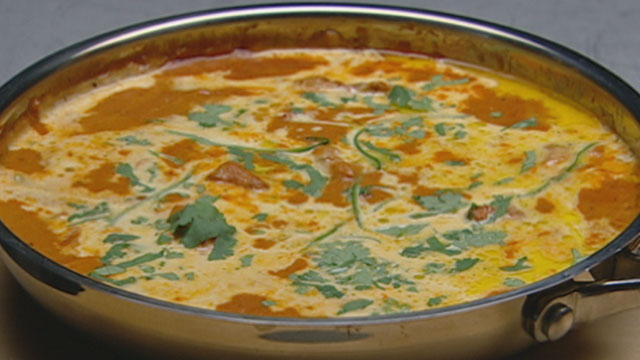 Steps
For tandoori chicken, add all ingredients for marinade except oil to a bowl and mix well. Coat chicken with marinade and refrigerate for 3 hours or overnight.
Preheat oven grill, and place chicken on the grill rack, with a tray underneath to collect the drippings. Grill for 8-10 minutes, brush with oil, turn chicken over and grill for another 4-5 minutes until the chicken is cooked. Keep aside.
For butter sauce, heat oil in a frying pan over medium heat, add onion and cook until translucent. Add ginger paste, green chillies, cardamom, mace and cashew paste and fry for a further 2 minutes.
Add tomatoes, tomato puree, stock and salt and simmer, stirring, occasionally for 5 minutes. Remove from heat and set aside to cool.
Once cool, blend to a puree to make a smooth sauce. Strain through a sieve. Return sauce to pan and cook over low heat. Add the honey, followed by the tandoori chicken and drippings. Stir and simmer for 3-4 minutes.
Sprinkle over garam masala, Kashmiri chilli powder and dried fenugreek leaves. Add the butter and stir until it melts. Finally stir in cream and take off heat. Garnish with green chillies, fresh coriander and cream. Serve with rice or naan bread.