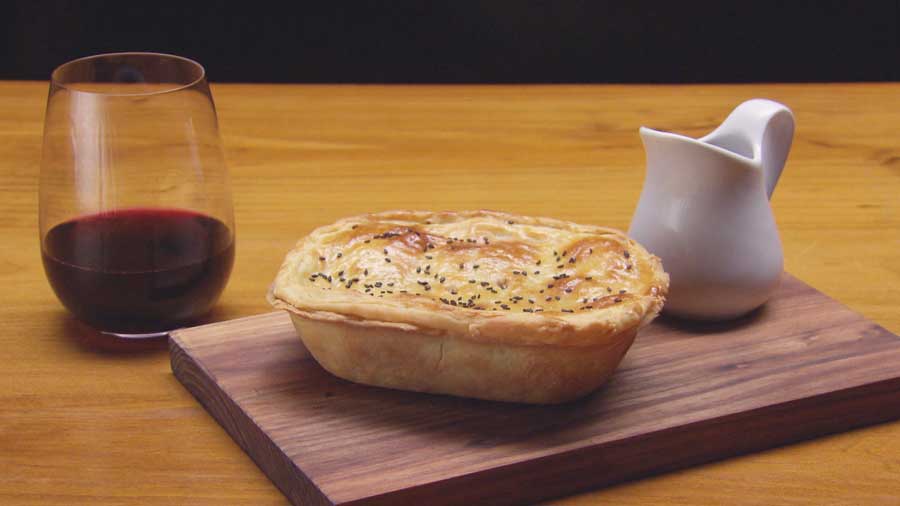 Steps
Preheat oven to 180C.
For the pastry, rub butter into flour until it resembles coarse breadcrumbs. Mix in egg and enough water to just bring the dough together. Knead lightly and rest in fridge for 30 minutes.
Roll out 2/3 pastry to 3mm thick and place in 4 well oiled 10cm base pie tins. Trim edges and rest in freezer for 10 minutes. Line pastry with foil, add pie weights and blind bake for 15 minutes. Remove pie weights and foil, and bake for a further 10-15 minutes until lightly golden. Set aside.
Roll out remaining pastry onto a paper lined baking tray and refrigerate.
For the filing, heat 30ml olive oil in a large heavy based pan. Sweat onions, carrots, leek, celery and thyme on a low heat for 10 minutes. Add garlic and pepperberries and continue to cook for another five minutes. Set aside.
In a separate saucepan brown the beef with remaining 30ml oil over a high heat. Add the kaiserflesch, mushrooms and cook for a further 5 minutes. Pour in red wine and simmer for 5 minutes. Add reserved cooked vegetables.and stock and continue gently simmering, covered, for two hours. Uncover towards end of cooking time if liquid has not mostly all evaporated.
In a separate pan, melt butter then whisk in flour and cook for a minute over medium heat. Add flour mixture to beef mixture and stir through until mixture thickens. Remove from heat, season to taste and allow to cool.
Increase oven to 200C.
Pour the cooled mixture into pie shells. Cut 4 rounds from reserved, chilled pastry. Place on top and press dough gently to seal. Brush with egg yolks, sprinkle with sesame seeds and bake until golden, about 25 minutes.