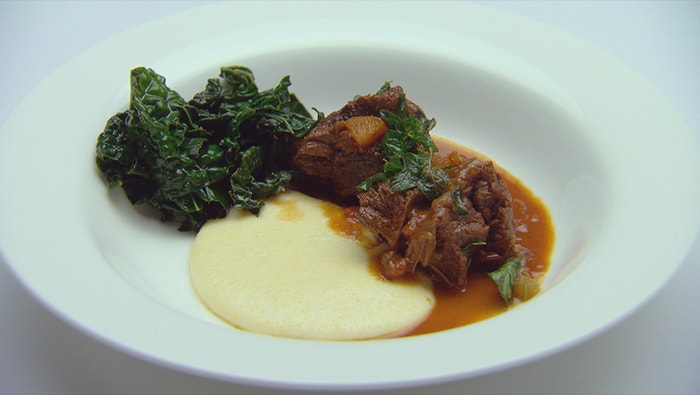 Steps
For the Beef Cheeks, heat a pressure cooker on browning setting.
When hot, add the oil and beef cheeks and cook, turning until browned on all sides. Remove and set aside on a plate.
Add the onion, carrot, celery and garlic and cook until golden and vegetables start to soften. Stir regularly.
Return the beef cheeks to the pressure cooker along with the remaining ingredients.
Secure the lid and cook on high pressure for 90 minutes.
Release the pressure and carefully transfer the beef cheeks to a warm plate. Cover loosely with foil to keep warm.
Strain the cooking liquid through a fine sieve into a small saucepan. Simmer over medium heat until reduced and thickened. Season to taste, then remove from the heat and cover to keep warm.
For the Polenta, place the milk and 200ml water into a large saucepan and bring to the boil.
Add the polenta gradually, whisking continuously, until tender and thickened. Add the pecorino cheese and whisk until combined. Remove from the heat and season with salt. Cover and keep warm.
For the Cavolo Nero, bring a medium saucepan of salted water to the boil.
Blanch the leaves in the boiling water for 3-4 minutes then refresh in iced water. Slice into 1cm wide slices.
Place a medium frypan over high heat. Add the olive oil and when hot, add the cavolo nero and a pinch of salt and sauté until tender. Stir in the lemon juice. Remove from the heat.
To serve, spoon the Creamy Polenta into the centre of each plate, top with 2 pieces of Beef Cheek and drizzle with some sauce. Add the Cavolo Nero and serve.