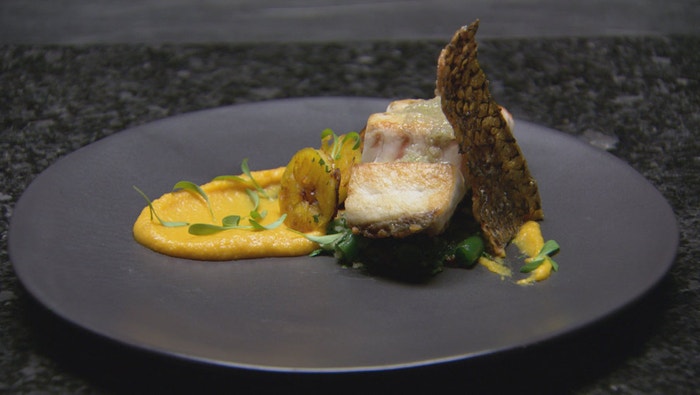 Steps
Preheat oven to 180C.
To make the Nahm Jim, place all ingredients into a mortar and pestle and grind to a semi smooth consistency. Adjust to taste with lime juice, fish sauce and palm sugar. Set aside.
To make the Pumpkin Puree, heat coconut oil in a medium saucepan. Add ginger and shallots and sauté until translucent. Reduce heat and add pumpkin, ginger powder, 125ml water and simmer until pumpkin is soft, about 10-12 minutes.
Strain pumpkin pieces to remove any excess liquid. Remove ginger slices and discard then transfer pumpkin to a food processor and process until smooth. Add coconut cream, processing until smooth yet still slightly thick. Pass puree through a sieve, season to taste and set aside, keeping warm.
To make the Coconut and Green Bean Salad, prepare a bowl of iced water and set aside. Bring a small saucepan of water to the boil. Add beans and cook until bright green, about 30 seconds, then remove and plunge straight into iced water. Strain and set aside.
Place a small fry pan over medium heat. Add coconut flesh and fry, stirring occasionally, until brown. Remove from pan and set aside. In the same pan, heat 60ml of the vegetable oil and add shallot. Fry until golden, remove from pan and set aside on paper towel.
Combine blanched beans, coconut flesh, shallots and herbs in a bowl and add palm sugar, lime juice, 1 tbsp vegetable oil and mix through. Season with salt, to taste. Set aside.
To make the Patacones, heat oil in a large saucepan to 170C. Add plantain slices and fry until just brown, about 2-3 minutes. Remove from saucepan and place onto a chopping board. Using the bottom of a coffee mug, flatten plantain pieces into rounds about 5mm thick. Return plantain pieces to oil and fry until brown and crisp, about 1-2 minutes. Remove from oil and place onto paper towel to drain. Sprinkle with salt flakes while still hot. Use a 4cm cutter to cut patacones into smaller circles. Set aside.
To prepare the Barramundi, line a baking tray with baking paper. Remove skin from fillets and place skin onto lined tray. Reserve fillets in the fridge until required.
Sprinkle barramundi skin with salt and cover with a sheet of baking paper. Place a second baking tray on top of the baking paper covered skin to weigh down. Place tray into oven and bake until skin is crispy, about 8-10 minutes. Remove from oven and set aside.
To cook the barramundi fillets, heat oil in a fry pan over medium heat, place barramundi fillets in pan and reduce heat. Fry until cooked through, about 3-5 minutes. Gently turn fillet over to seal the other side, about 1-2 minutes. Remove from pan and set aside to rest.
To serve, smear some of the pumpkin puree onto plate then top with some green bean salad. Place barramundi gently on top of bean salad and spoon some nahm jim over the top. Place a piece of crispy fish skin on top of barramundi and lean some patacones on the side. Finish with a sprinkle of micro coriander.