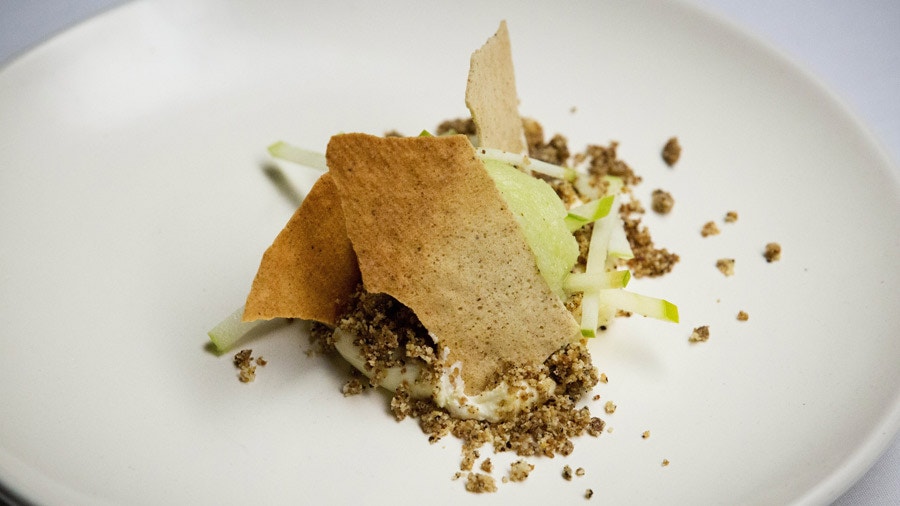 Ingredients
Pickled Apple Matchsticks
Steps
Preheat oven to 180C. Turn on ice cream machine to chill.
For the Apple Sorbet, place all ingredients and 1 cup of water in a blender and blend on high speed until sugar has dissolved, about 2 minutes. Pour into chilled ice cream machine and churn until set, about 25-30 minutes. Once set, place sorbet into the freezer until required.
For the Fennel and Apple Gel, place diced fennel, apple juice, sugar and a pinch of salt into a medium saucepan with 50ml water and simmer, covered until fennel is soft, about 12-15 minutes. Strain and reserve liquid, then transfer the fennel to a food processor. Process fennel until smooth then pass through a fine sieve. Return passed fennel to food processor and process, adding 1 tablespoon of reserved liquid at a time until a smooth puree is achieved.
Reduce speed to low, add xanthan gum and process until a smooth thick fluid gel is formed. Transfer to a piping bag and set aside.
For the Cheese Mousse, place gelatine into a bowl of iced water and set aside to bloom.
For the Cheese Mousse, place milk, vanilla seeds and sugar into a small saucepan over medium heat and bring to the boil. Remove saucepan from heat, squeeze out gelatine to remove excess moisture and whisk into the hot milk until dissolved.
Meanwhile, place chevre and marscapone into a stand mixer fitted with a whisk attachment and whisk until combined. With the mixer running on half speed, pour the reserved milk mixture into the chevre and marscarpone and continue to whisk on high speed until light and fluffy. Transfer to a piping bag and set aside in the fridge.
For the Fennel Caramel, place sugar in a medium frypan and melt over a low heat until amber in colour. Place fennel seeds and cream in a small saucepan over medium heat and bring to the boil, then remove from the heat, strain and set aside. Once sugar is amber in colour, remove from heat and add warm cream, whisking continuously until smooth. Allow to cool slightly then transfer to a squeeze bottle for serving.
For the Wattleseed Coffee Crumb, combine dry ingredients together in a medium bowl. Add butter and rub in using fingertips to create a coarse crumb. Spread onto a baking tray lined with baking paper and bake until golden, about 10-15 minutes. Remove from oven and set aside to cool. Once cool, use a fork to break crumb up into a finer crumb and set aside.
For the Pickled Apple Matchsticks, use a mandolin to slice apple into 2-3mm slices then into matchsticks. Place into a bowl with apple and lemon juices and set aside.
For the Tuile Shards, melt butter in medium fry pan with cinnamon, ginger, cardamom, cloves and nutmeg. Remove from heat and set aside to infuse for 15 minutes.
Meanwhile, place egg whites, sugar and both flours in a medium bowl and whisk together to form a smooth batter. Strain spiced butter mix into the bowl of batter and whisk until well combined. Set aside to rest for 15 minutes. Place a silicon mat onto a baking tray and spread batter onto the mat to a thickness of 2-3mm. Bake until golden, about 8-10 minutes then remove from oven and set aside to cool. Once cool, break up into small shards and set aside.
To serve, pipe a 12cm ring of Cheese Mousse on each serving plate. Pipe a ring of Fennel and Apple Gel inside then fill the center with a spoonful of Fennel Caramel. Spoon Wattleseed Coffee Crumb over the top. Place Pickled Apple Matchsticks in a nest arrangement onto top of the Coffee Crumb and top with a rocher of the Apple Sorbet. Arrange 3 Tuile Shards around the Apple Sorbet.