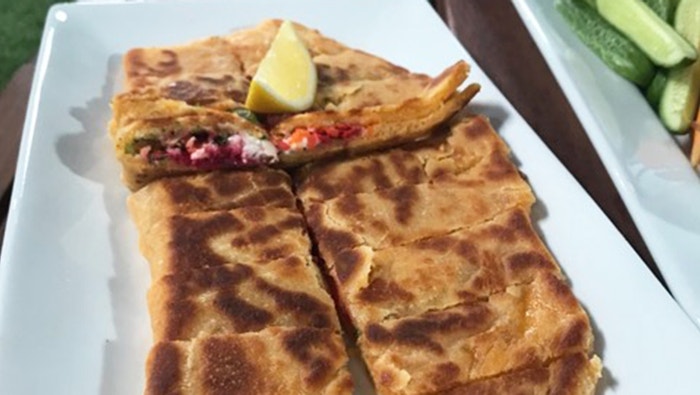 Steps
To make the dough, combine the yeast, sugar, salt and 90 ml of the water in a small bowl and mix to combine. Set aside for 10 minutes until it begins to bubble.
Combine the flour and 1 tablespoon of paprika in a large bowl and make a well in the centre. Add the yeast mixture, olive oil and the remaining water. Working from the centre, slowly mix to incorporate the flour, stirring until a rough dough starts to form. Turn out onto a lightly floured surface and knead for 10 minutes until smooth and elastic. Place the dough in a lightly oiled bowl and set aside, covered, for 45 minutes until doubled in size.
Meanwhile, heat a hot plate or large frying pan until medium.
Divide the dough into four and roll each piece into a rectangle about 20cm x 30cm. Sprinkle the grated vegetables along one half of each piece of dough. Crumble the feta over and top with spinach. Fold the dough in half and pinch the edges together to seal.
Brush each gözleme lightly with oil and cook for 3−4 minutes on a preheated hotplate, until golden on each side. Remove from heat, cut into quarters and serve with lemon wedges.