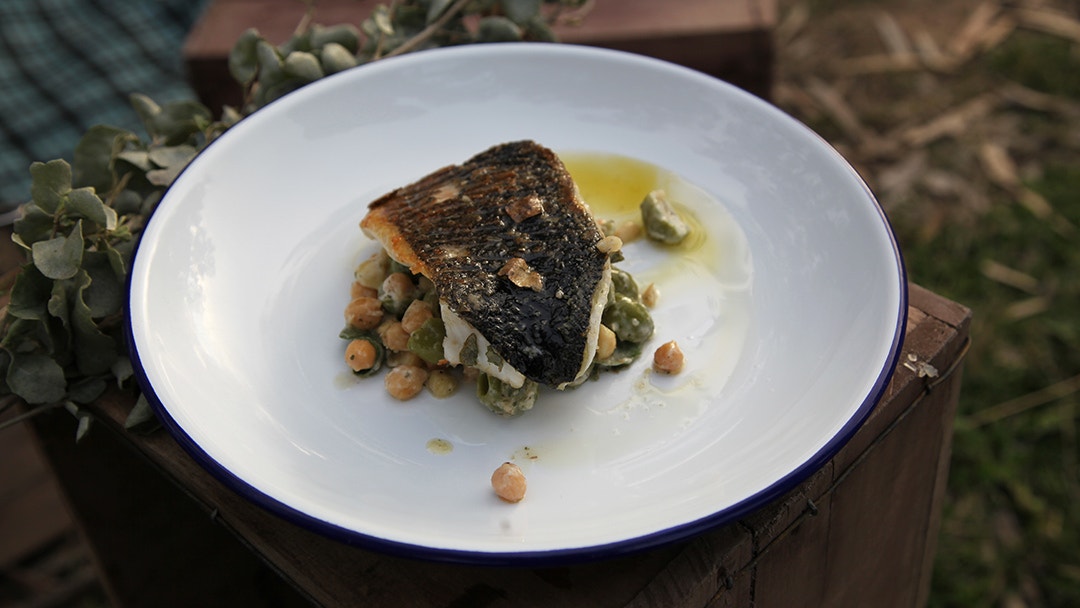 Ingredients
Salt bush and chickpea salad
Steps
Put the lemon juice, oil, garlic, lemon myrtle and ground wattle seed in a jar and season with salt and pepper. Shake to combine. Put the mayonnaise in a bowl, add enough of the vinaigrette to loosen the mayonnaise, season to taste.
Season the cod on both sides with salt and pepper. Heat the oil in a non-stick pan over medium-high heat then add the fish skin-side down. Cook for 3-4 minutes until the skin is crispy then turn over and add a handful of saltbush leaves and cook the other side for a further 3 minutes or until cooked through. Remove from the pan.
Add the macadamias, olives, remaining saltbush and chickpeas to same pan, toss to coat and warm through. Add some of the dressing and toss to combine. Divide fish and salad among plates and drizzle with some macadamia oil.
*Notes
Lemon Myrtle is an Australian native herb, it has a fresh fragrance of creamy lemon and lime; lemongrass-like flavour and aroma of lemon verbena. This can be bought as whole dried leaves or ground as a powder. Roasted and ground Wattle Seed is an Australian native spice, it has a nutty, roasted taste. Australian Native Saltbush is a blue-grey shrub found in dry inland regions. Macadamia oil can be purchased in supermarkets.