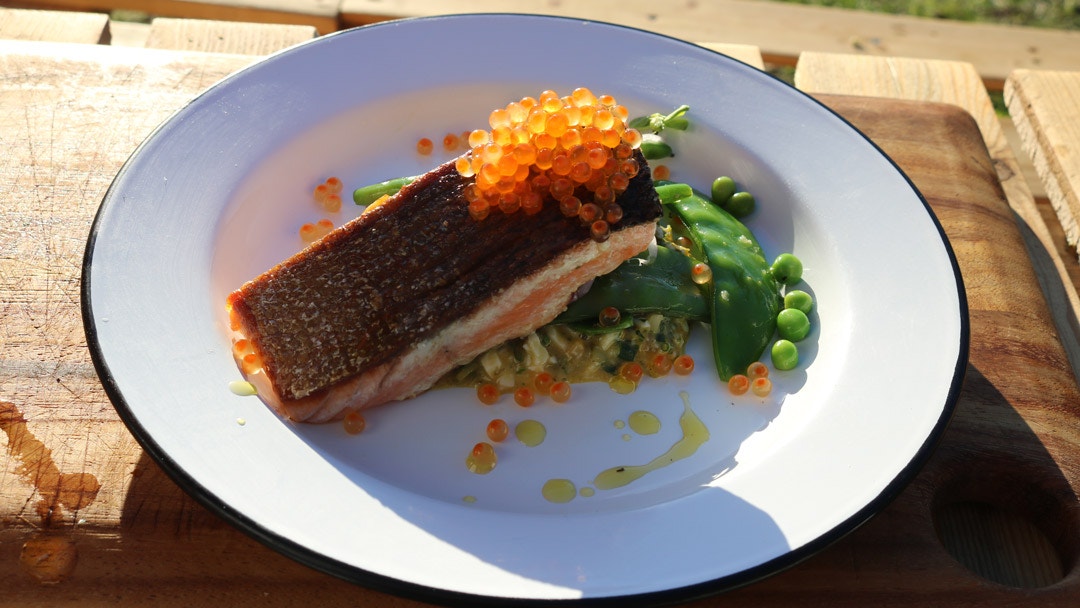 Steps
For Crispy Skin Salmon, pat the fish dry with paper towel to dry the skin *see note and score the skin with a sharp knife. Season.
Cut out a piece of greaseproof paper to fit the base of a medium fry pan.
Add oil to frypan and place over medium heat. Place the paper into the pan and immediately place the salmon fillets, skin side down onto the paper.
Press the fish into the pan with an egg flip or saucepan lid to ensure maximum crispness, and prevent it from curling up. Giving skin 100% contact with the heat of the pan will ensure it's crisp. If too high the skin will burn before the fish is cooked.
The fish should remain skin side down for 90% of the cooking time. As the fish cooks the sides of the fillet will change from orange to pink, use the pan juices to baste the fillet.
When the fish is pink ¾ up the side (this will take about 2 or 3 minutes), add butter and flip the fillet over and cook for another 30 seconds, basting with the butter. Remove from heat.
For the Sauce Gribiche, soft boil three eggs (place the eggs in boiling water for six minutes and then place the eggs in ice water to stop them cooking).
Add the chopped cornichons and capers. Add garlic and shallots, along with fresh tarragon, chives and parsley.
Add a spoonful of Dijon mustard and olive oil then season with salt and pepper. Whisk all the ingredients all together and add vinegar to balance.
For the Spring Vegetables, blanch baby beans in a large saucepan of boiling water for 2 mins or until just tender, adding snow peas and podded peas during the last minute of cooking. Refresh in iced water, then drain. Add eschallots and a splash of olive oil and sherry vinegar. Season with salt and pepper and toss to combine.
To Serve, divide vegetables among plates, top with salmon and sauce. Dot over salmon caviar.
*Note, this recipe works best with fresh fillets of salmon, it may stick if thawed from frozen.