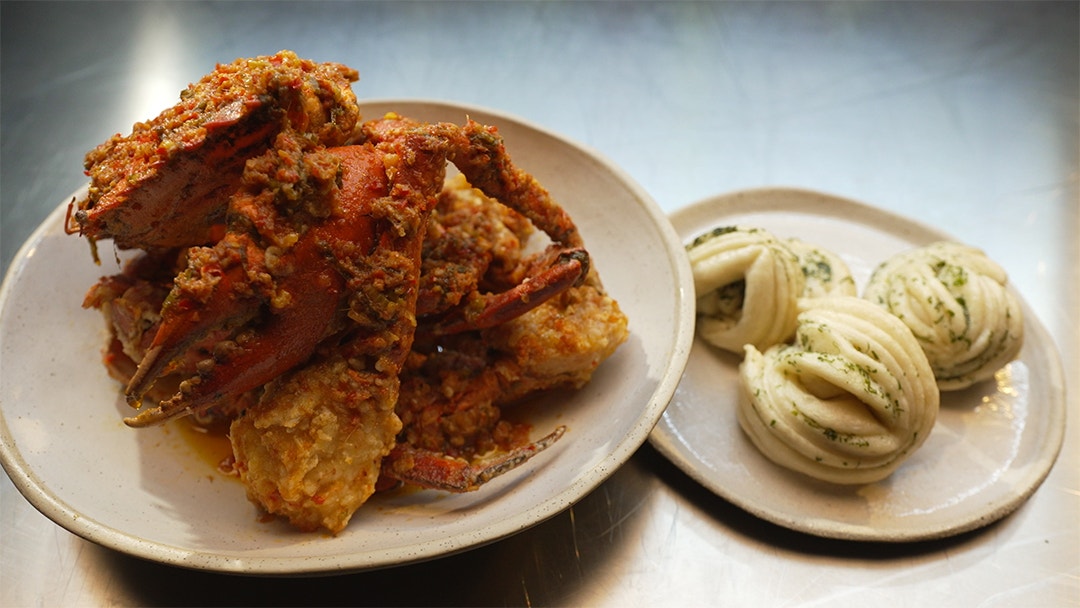 Steps
Pre heat oven to 180°C.
Fill a deep fryer with canola oil and heat to 190°C.
For the XO butter, soak shrimps and scallops in cold water for 10 minutes. Drain and set aside.
Wrap shrimp paste in alfoil and place in the oven for 5 minutes.
Dice the bacon and set aside.
Slice chillies in halves lengthways and de seed half of the chillies, discarding seeds. Set aside.
Place the ginger, garlic, bacon, toasted shrimp paste, chillies and soaked seafood together in a Thermomix blend on speed 5 until a smooth paste is formed.
Place mixture into a saucepan with the butter and cook on low-medium heat for 40 minutes, stirring often.
Remove the XO butter from the heat and stir in the spring onions, lime juice, white soy and season to taste. Transfer to a large bowl and keep warm.
For the seasoned flour, combine all ingredients in a large bowl and stir to combine. Set aside.
To prepare the crab, lift carapace and set aside. Remove gills and the mouth and discard. Cut crab in half down the middle, break off the two claws and cut the four legs in half so there are 6 pieces in total. Crack the claws with the back of a knife. Place all the pieces of the crab into a bowl including the carapace.
Place prepared crab into the seasoned flour and toss to coat. Place flour dusted pieces of crab into deep fryer and cook for approximately 4 minutes.
Place fried crab into XO butter and toss to cover.
To serve place crab onto a serving plate add spoon remaining XO butter over the top.