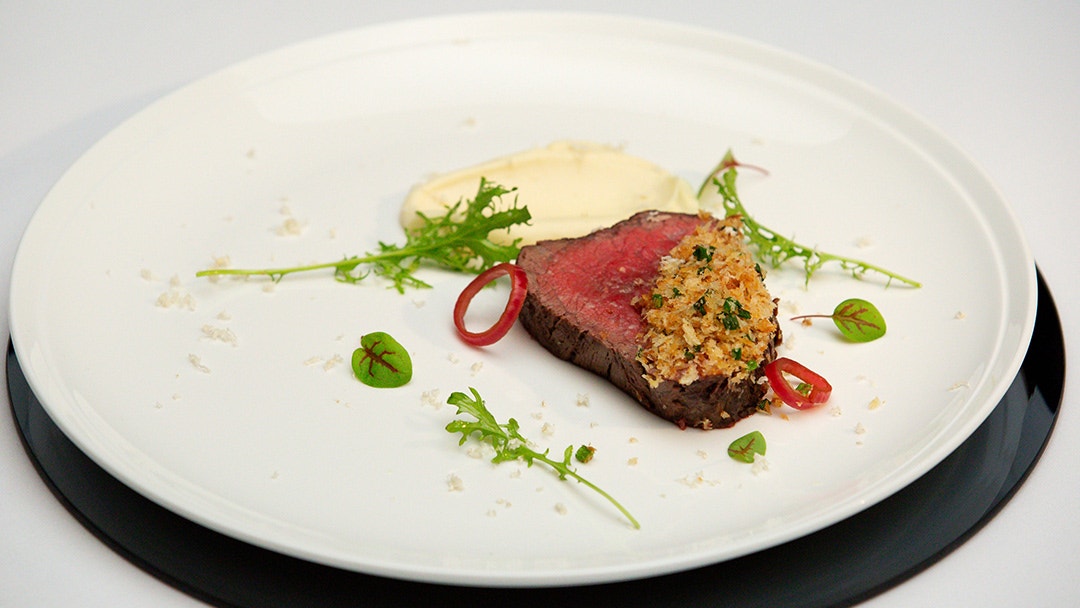 Steps
Preheat oven to 160C.
For the Bone Marrow Crumb, place the bones into the pan, cut side down and place over low heat. Allow the marrow fat to render from the bones until liquid. Remove from the heat and strain through a fine sieve. Set aside half for the Bordelaise and transfer the remainder to a small frypan.
Place the fry pan of marrow fat over low heat. Add the butter and when melted, add the panko crumbs. Cook until golden, stirring constantly. Fold the chives through and season with salt. Remove from the heat and set aside.
For the Beef Stock, place a large saucepan over medium high heat. Add the oil and beef bones and cook until browned. Add the carrots, shallots and garlic and cook until golden.
Add the beef stock and simmer for 20 minutes.
Add the bay leaves, rosemary and thyme. Reduce the heat and simmer until liquid has reduced to 250ml. Pass through a fine sieve into a jug and set aside.
For the Bordelaise, place the red wine and port into a small saucepan and place over high heat. Simmer until the liquid has reduced by 2/3rds. Add the Beef Stock and continue to simmer until the liquid has reduced to 180-200ml. Remove from the heat and pass through a fine sieve. Whisk in the rendered marrow fat, butter and salt. Set aside, keeping warm. Reheat gently and whisk prior to serving.
For the Pickled Onions, place the vinegar, sugar and salt into a small saucepan over medium heat. Stir to dissolve the sugar and bring to the boil. Remove from the heat and pour over onion slices. Set aside to pickle for at least 30 minutes. Drain well to serve.
For the Celeriac Puree, place the celeriac and butter into a small saucepan. Place over medium heat and sauté until lightly golden.
Add the milk and simmer until soft, about 15-20 minutes. Remove from the heat. Transfer the celeriac to a blender, reserving the milk. Process celeriac and add enough hot milk until a soft smooth puree forms. Season with salt. Pass through a sieve and set aside, covered, keeping warm.
For the Wagyu, place an ovenproof frypan over high heat.
Drizzle beef with oil and season with salt and pepper. Place into the pan and sear until browned all over
Transfer the frypan to the oven and cook until the internal temperature of the beef reaches 50C. Remove from the oven and transfer the beef to a clean chopping board. Cover loosely with foil and allow to rest before slicing to serve.
To serve, place a portion of Wagyu onto each plate. Sprinkle with the Bone Marrow Crumb. Add some Celeriac Puree and Pickled Onions. Garnish with some mizuna leaves, baby sorrel and freshly grated horseradish. Serve with the Bordelaise on the side.