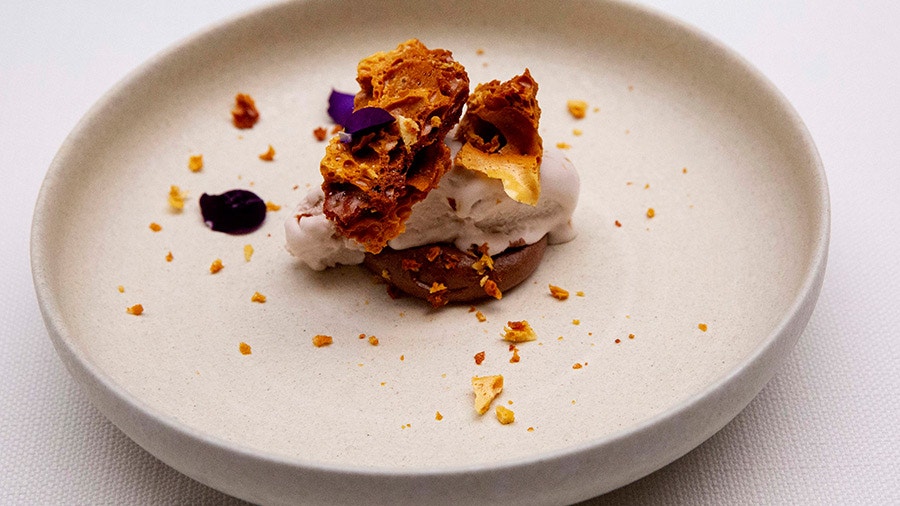 Steps
Prechill ice cream machine.
For the Violet Ice Cream, place cream, milk and liqueur into a medium saucepan and bring to a simmer over low heat.
Meanwhile, place eggs, egg yolks, sugar and a pinch of salt into the bowl of a stand mixer fitted with a whisk attachment. Whisk until light, creamy and pale. While whisking, gradually add hot milk mixture until combined. Return mixture to saucepan, place over a medium heat and stir until mixture reaches 82C and thickens.
Remove from heat and strain into a bowl set over an ice bath. Allow to cool then place into ice cream machine and churn according to manufacturers directions. Set aside, in freezer, until serving.
For the Dark Chocolate Mousse, place chocolate, 100g cream and salt in a medium microwave proof bowl. Cook in the microwave in bursts, stirring in between, until mixture is smooth and combined. Add gelatine and stir until smooth. Set aside to cool.
Whisk remaining 65g cream to soft peaks and fold into cooled chocolate mixture. Transfer to a piping bag and set aside in fridge until firm and ready to serve, about 35 minutes.
For the Honeycomb, place sugar, glucose, honey and 2 teaspoons water into a medium saucepan and bring to 155C. Remove from heat.
Sift bi-carb soda into the saucepan and whisk to incorporate. Pour mixture into a very deep baking tray and allow to cool down for 30 minutes. Break some honeycomb into large chunks and some into smaller crumbs and set aside for serving.
To serve, pipe a portion of Dark Chocolate Mousse into the centre of each serving plate. Add a spoonful of Violet Ice Cream and top with a piece of Honeycomb. Sprinkle with Honeycomb crumbs and garnish with flower petals.