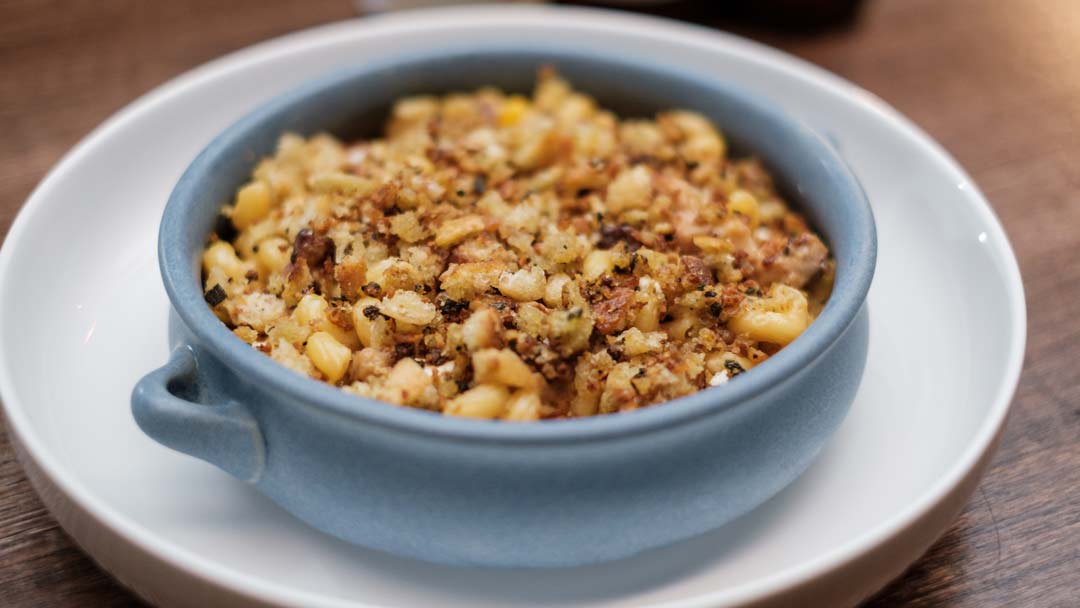 Steps
Bring a large saucepan of salted water to the boil.
For the Three Pork Mix, heat a pressure cooker on browning setting. Add the pork belly and brown on all sides. While browning, combine the sugar, smoked paprika, salt and pepper in a wide bowl. Remove the pork from the pressure cooker and roll in the seasoning mixture until fully coated. Return to the pressure cooker along with the cider and cook under high pressure until tender, about 35 minutes.
Meanwhile, place a medium frypan over low heat. Cut pancetta and bacon into ½ cm lardons and add to hot frypan. Cook until fat has rendered and pieces are crispy. Remove from the pan, reserving the fat in the pan for later use.
Once the pork belly is cooked, shred the meat. Place into a frypan along with 2 tablespoons of cooking liquid and cook until liquid has reduced, about 2 minutes. Remove from the heat and add the crispy pancetta and bacon. Set aside.
For the Cheese Sauce, heat oil in a deep medium frypan over medium heat. Add shallot and garlic and cook until softened and starting to brown. Add butter and thyme and allow to melt. Add the flour and stir until the mixture starts to bubble. Continue to stir for around a minute then slowly add the milk, mixing continuously to avoid lumps. Cook on a low heat for 1-2 more minutes, before adding the parmesan. Stir until melted and combined. Remove from the heat and add the smoked cheddar, stir until combined. Add the blue cheese. Mix through the mustard, sour cream and salt, to taste. Set aside.
For the Macaroni and Sweetcorn, place macaroni and corn to the boiling water and cook macaroni until al dente, slightly less than the time given on package. Cook corn for 2-3 minutes. Drain macaroni well and add to the cheese mix.
Slice kernels off the cob and add to the macaroni and sauce. Add the Three Pork Mix and stir until combined then transfer to an oven proof baking dish. Press cubes of goat's cheese into the macaroni and place dish onto a baking tray.
For the Anchovy and Sage Crumb, place the bread, sage and anchovies into a food processor and pulse until finely chopped. Return the pan of reserved fat to a medium heat. Add the crumb mix and fry until golden and crunchy, season to taste. Spoon evenly over macaroni and grill until golden. Serve with cold beer, if desired.