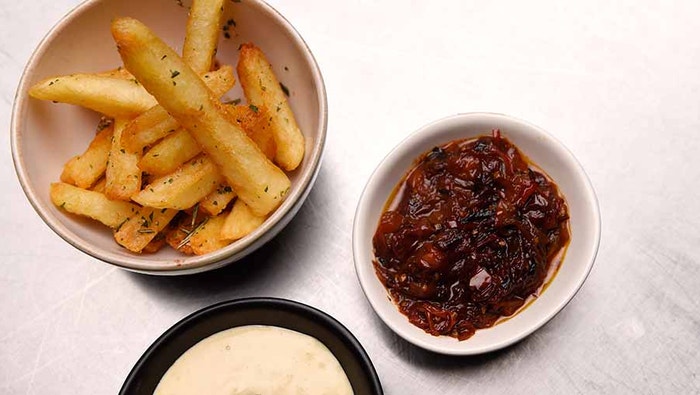 Steps
Preheat deep fryer to 140C. Preheat the oven to 200C.
For the Roasted Garlic Aioli, place garlic onto a tray and drizzle with olive oil. Place into the oven to roast until cooked through and softened, about 30 minutes. Remove from the oven and allow to cool. Once cooled, peel garlic then mince the flesh finely and set aside.
Crack the egg carefully into a stick blender canister, taking care not break the yolk. Add remaining ingredients except for the rice bran oil. Blitz with a stick blender while slowly adding rice bran oil in a steady stream until mayonnaise has emulsified and thickened. Add the roasted garlic and stir well until combined. Transfer to a ramekin and set aside in the fridge.
For the Tomato and Chilli Chutney, heat olive oil in a medium frypan over medium heat. Add onions and chilli and sauté until golden brown. Add remaining ingredients and simmer until thick. Transfer to a ramekin and set aside.
For the Potato Chips, cut potatoes into chunky chips approximately 1 cm in thickness. Wash under running cold tap water and place in small saucepan with enough cold water to completely cover the potatoes. Place saucepan over high heat and bring to the boil. Boil potatoes until partially cooked, about 8-10 minutes. Strain potatoes then spread out on a wire cooling rack and place in the freezer to cool completely. Once cool, place chips into the deep fryer and cook for 4-5 minutes. Remove from fryer, spread back onto the wire cooling rack and place back into the freezer to cool completely.
Increase temperature of deep fryer to 185 degrees.
Once chips have cooled, add to the deep fryer and fry again until golden, about 8-10 minutes. Remove chips from the deep fryer and drain on paper towel.
Combine chopped rosemary and salt flakes in a bowl. While still hot, add the chips to the salt and rosemary and toss to coat. Transfer Potato Chips to the serving bowl. Serve with Tomato and Chilli Chutney and Roasted Garlic Aioli in ramekins on the side.