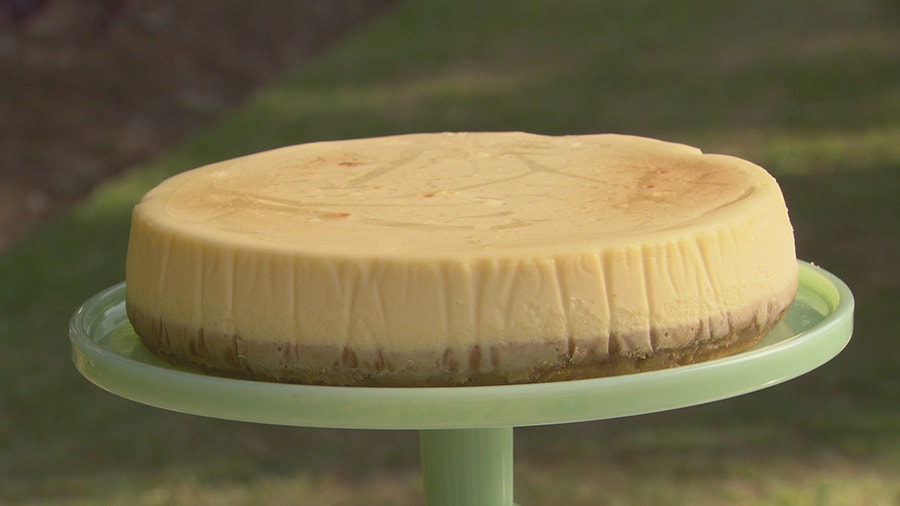 Steps
Preheat oven to 175C.
Line a 23cm spring form cake tin with baking paper. Double wrap the outside of the cake tin with extra-wide aluminium foil.
For the Biscuit Base, place biscuits into a food processor and blitz to a fine crumb.
Transfer to a mixing bowl, stir in the sugar then add melted butter and mix until well combined.
Pour biscuit base mixture into the prepared cake tin and press down firmly and evenly with the back of a spoon. If a thinner base is desired, use only part of the mixture.
Place into the oven and bake for 10 minutes. Once baked, remove from oven and set aside to cool.
Meanwhile, for the Filling, place the cream cheese into the bowl of a stand up mixer fitted with a paddle attachment and beat until smooth and creamy.
Add caster sugar and beat until fully dissolved. Add eggs, one at a time, ensuring eggs are fully incorporated by beating well in-between each addition.
Reduce mixer speed and add lemon juice, vanilla extract and salt and mix until combined. Add cream and mix well until combined. Pour the filling over the cooled biscuit base then place cake tin into the middle of a large, deep roasting tray in preparation for a water bath.
Carefully fill the deep roasting tray with water to a depth of about 2cm and place into the oven. Bake until golden and cooked through, about 65 minutes.
Once baked, turn off oven and leave oven door closed. Leave cheesecake to cool inside the oven for 1 hour.
Remove cheesecake from oven and allow to cool completely, then release from tin.
To serve, top with some fresh raspberries, blackberries and micro coriander leaves.