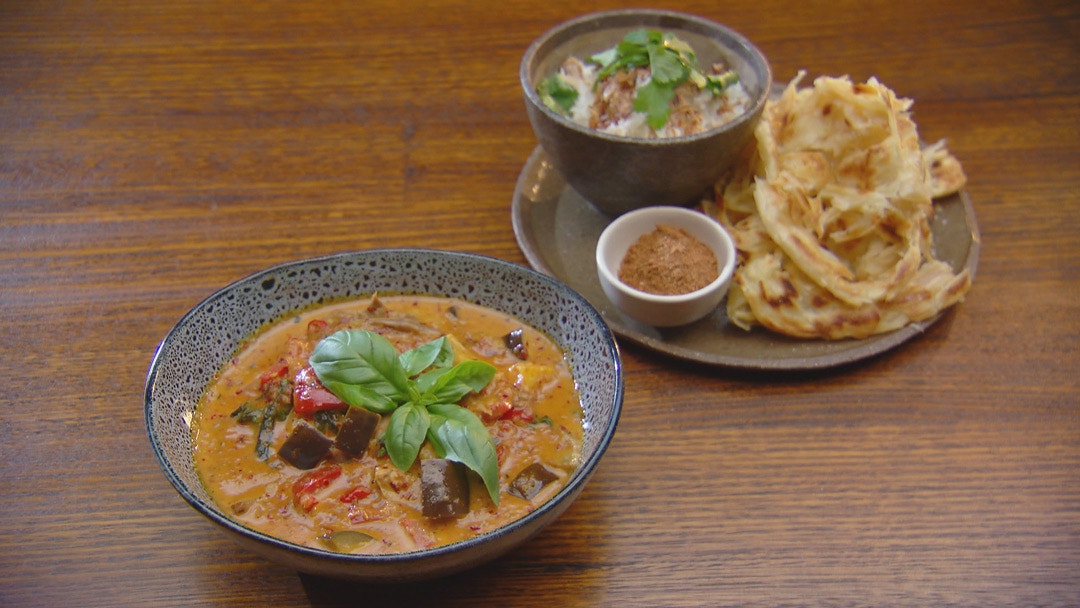 Steps
For the Pulled Duck, place all the ingredients into a pressure cooker. Seal and cook on high pressure for 35 minutes. Release the pressure and remove the duck. Allow to cool slightly then shred the meat. Set aside.
For the Roti Canai, place the flour, water, 1 ½ tablespoons vegetable oil and salt into a bowl. Mix with spoon until a rough dough forms.
Transfer to a clean work surface and knead the dough for 5 minutes until smooth and elastic.
Divide the dough into 8 balls. Coat each generously with ghee and set aside in a tray brushed with ghee. Rest the dough for 30 minutes.
Once rested, grease a clean bench with extra oil. Working with one portion of dough at a time, press out onto the bench until very thin. Brush with ghee and scrunch the dough into a cylinder. Curl the cylinder to form a scroll and coat with ghee. Repeat with remaining portions and allow to rest for 5 minutes.
Press each scroll out thinly with hands.
Heat a pan with 2 teaspoons oil and a pinch of salt over medium heat. Carefully transfer the flattened dough into the pan and cook on both sides until golden and crisp. Remove from the heat and scrunch the roti in your hands. Set aside. Repeat with remaining dough, adding more oil to the pan as required. Keep warm.
For the Red Curry Paste, place ingredients into a food processor and process to a coarse paste.
Add the reserved chilli soaking liquid a little at a time to help process the mixture. Scrape down the sides and process until almost smooth. Set aside.
For the Red Curry Soup, heat 1/3 cup grapeseed oil in a wok over medium heat. Once hot, add the Red Curry Paste, chilli soya beans and oil. Cook the paste until fragrant and darkened, about 4 minutes.
Add an additional ¼ cup grapeseed oil and cook until half of the oil has evaporated. Add the coconut cream and milk and bring to a simmer then simmer for 5 minutes.
Add fish sauce, chilli flakes, sugar and salt. Bring to a simmer and simmer for 2 minutes. Add pineapple, capsicum and eggplant and simmer until tender, about 6-8 minutes.
Add basil and cook for 1 minute. Remove from the heat. Add the shredded duck and season to taste with lime juice and salt. Set aside, covered, to keep warm.
For the Coconut Rice, place the rice and water into a saucepan and cover with a lid. Cook over low heat according to package instructions, stirring halfway through. Remove from the heat and keep covered to allow the residual steam to cook the rice. Fluff the rice with a fork then transfer to a serving bowls.
In a separate bowl, mix the coconut milk and salt together. Pour 2 tablespoons of coconut milk over each serving of rice.
Sprinkle with fried shallots and garnish with coriander leaves.
For the Prawn Chilli Powder, toss the chillies and dried shrimp in a dry frypan over medium to high heat until the chillies have darkened. Remove from the heat.
Transfer to a spice grinder and process to a fine powder. Add the salt and process for 10 seconds. Transfer to a small ramekin to serve.
Pour Red Duck Curry into a serving bowl and garnish with basil. Serve with Coconut Rice and ramekin of Prawn Chilli Powder.