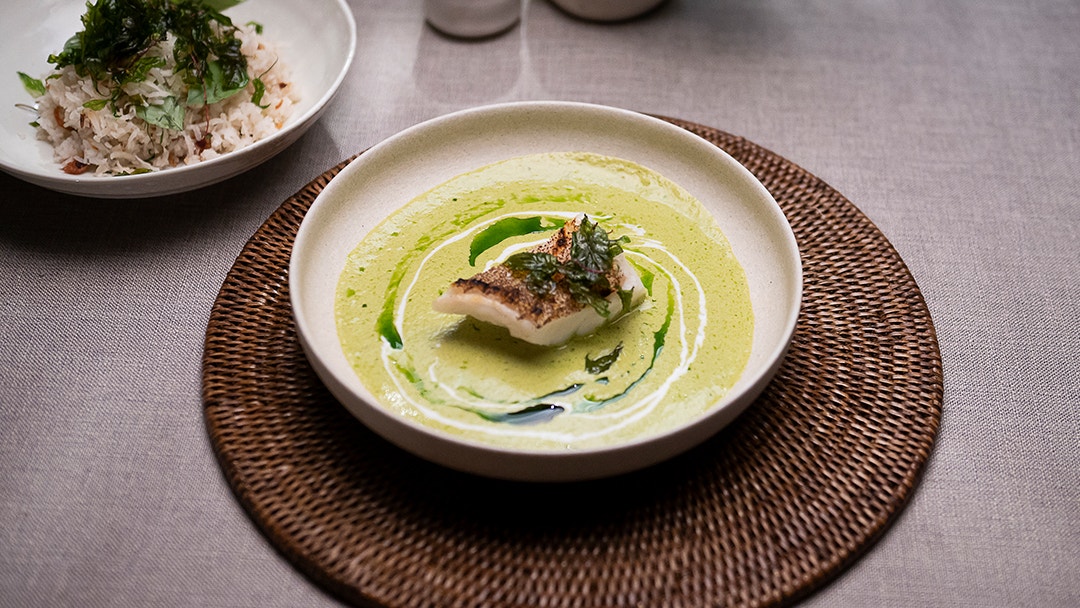 Steps
Prepare coals for a hibachi if using.
For the Char Grilled Coral Trout, place the coral trout portions on to a tray, skin side up and place in the fridge to dry out the skin while preparing the remainder of the dish.
Pat the fish with paper towel, season generously with salt.
When ready to serve, cook skin side down on an open grill or hibachi until almost cooked through, about 4-5 minutes depending on thickness of fish. Turn and cook for an additional 30 seconds or until the internal temperature of the thickest part of the flesh reaches 44°C. Remove from the heat and place onto a warm plate to rest.
For the Thai Basil Oil, place ingredients into a Thermomix and process on speed 5 at 65°C for 10 minutes. Strain through a super bag into a bowl over ice. Reserve in the fridge.
For the Curry Paste, place ingredients in a high speed food processor and process to a fine paste. Set aside in the fridge.
For the Curry Sauce, place coconut cream in a medium non stick frypan and bring to the boil. Once reduced and beginning to split, add Curry Paste. Stir continuously until aromatic, foamy and bright green, about 3 minutes.
Add stock and return to the boil. Simmer until reduced, about 10 minutes. Stir in the lime leaves and basil leaves. Strain through a fine sieve into a clean pan. Season with lime juice and palm sugar. Set aside and cover to keep warm.
For the Nasi Ulam, cook the rice according to packaging instructions. Place 3 tablespoons of the coconut onto a tray and toast in the oven until golden brown, about 6-7 minutes. Transfer to a bowl to cool. Whilst rice is still warm, toss through lime leaf, shallots, toasted and untoasted coconut, belacan and lime zest. Toss Thai basil through just before serving.
For the Crispy Basil Leaves, heat oil in a deep saucepan to 180°C.
Carefully add the leaves and cook until starting to become translucent, about 30 seconds. Remove from the oil and set aside on paper towel to cool and crisp.
To serve, place a portion of trout in each serving bowl. Pour hot curry sauce around the fish and finish with a little coconut cream. Drizzle with Thai Basil Oil and garnish with crispy basil leaves. Serve bowl of rice on the side.