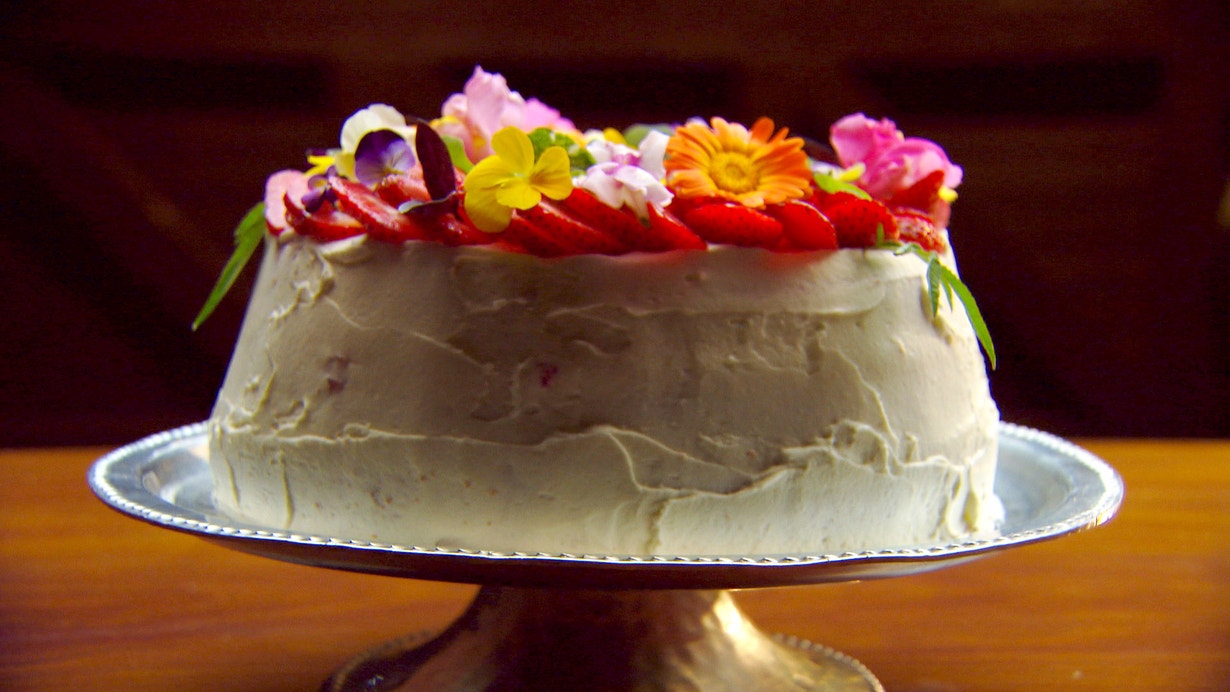 Steps
Preheat the oven to 175ºC.
For the Chiffon Cake, place the egg yolks, flour, coconut cream, 1/3 cup caster sugar, oil, lychee liqueur and baking powder into a large mixing bowl and whisk until smooth. Set aside.
Place the egg whites and cream of tartar into the bowl of a stand mixer fitted with a whisk attachment. Whisk until stiff peaks form then add the remaining 1/3 cup caster sugar. Whisk until very stiff and glossy.
Add 1/3 of the mixture to the egg yolk mixture and fold through with a whisk. Add the remainder and fold through very gently until combined. Pour mixture into a 24cm aluminum angel food cake tin (with feet and a removeable base).
Bake in the oven for 38 - 40 minutes or until an inserted skewer comes out clean.
Remove from the oven and immediately turn cake upside down on its legs onto a round wire rack. Allow to cool completely.
For the Lychee Cream, whisk the cream, icing sugar and lychee liqueur until stiff peaks form. Transfer to a piping bag and store in the fridge until required.
Once the cake has cooled, turn cake over and remove the wire rack. Carefully run a large metal spatula around the edge of the cake tin, then repeat around the hole using a small metal spatula. Invert onto the wire rack and lift the tin up off the cake. Run a spatula between the cake and the removable base to release the cake.
Turn the cake over onto a cake stand and slice horizontally into 3 even layers. Cut a small notch down the side of the cake to help the layers match up after filling, so the cake doesn't become lopsided after filling. Snip a 5mm hole off the tip of the piping bag filled with lychee cream and pipe enough cream to cover the surface of the first layer, about 5mm thick.
Dice a quarter of the strawberries into 5mm cubes. Evenly sprinkle half of the diced strawberries and half the lychees over the cream, then repeat for the second layer.
Tuck some long pieces of baking paper under the bottom of the cake to keep the cake stand clean. Pipe 80% of the remaining cream over the cake then smooth all over with a spatula.
To finish, slice the remaining strawberries into 3mm thick slices. Arrange over the top of the cake with the pointed ends slanted facing upwards, to resemble the pattern of fish scales. Finish with edible flowers and leaves. Remove the baking paper and pipe the remaining cream in dots around the base of the cake to finish.