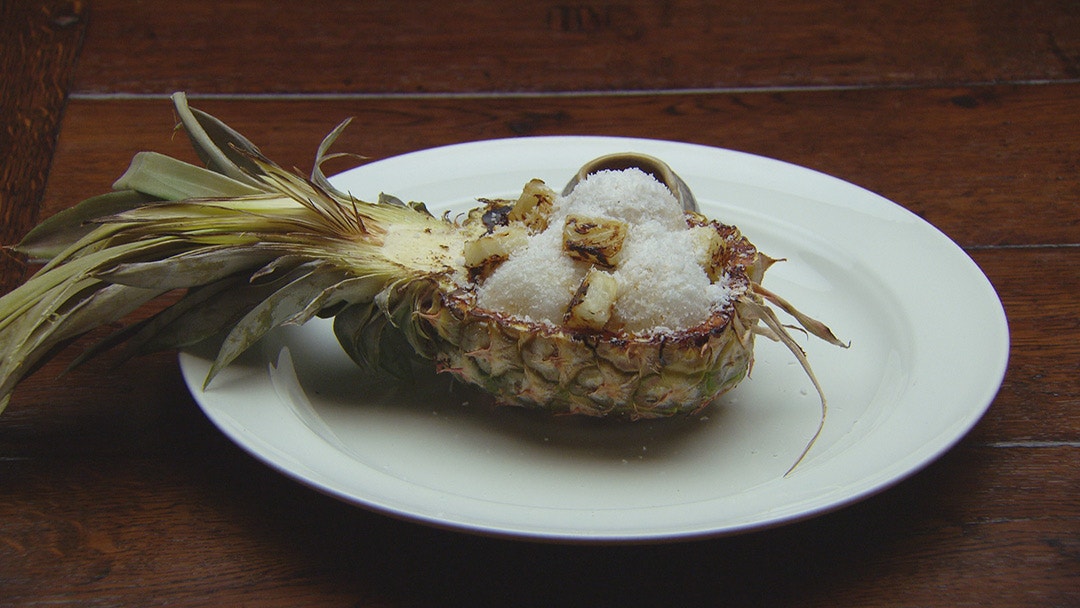 Ingredients
Yoghurt and Coconut Ice cream
Pineapple Boat and Grilled Pineapple
Steps
Pre-chill ice cream machine.
For the Coconut Yoghurt Ice Cream, place the ingredients into a medium bowl and whisk together until smooth. Place into the ice cream machine and churn according to manufacturer's instructions. Transfer to the freezer until required.
For the Sticky Rice, bring a large saucepan of water to the boil.
Wash the rice to remove the starch. Place into a medium glass bowl and add 1½ cups water. Cover the bowl with cling film and cook in the microwave for 12 minutes.
Drain the rice in a colander thoroughly. Add ½ cup desiccated coconut and a pinch salt and stir through.
Place one tablespoon of the rice mixture into the centre of 12 pieces of banana leaf. Fold the banana leaves around the filling and secure with a bamboo skewer. Place the parcels into 2 bases of a large bamboo steamer. Stack, cover and steam over the boiling water for 15 minutes. Remove the parcels from the steamer.
Meanwhile, heat a grill pan over medium heat. Place the remaining 1 cup desiccated coconut and pinch salt in a small bowl and mix together. Set aside.
Cut the flesh from the centre of the pineapple halves, leaving a 1cm edge all around. Cut the flesh into 1.5cm cubes.
Cook the pineapple cubes in the hot pan until caramelised. Remove from the pan. Place 12 into the desiccated coconut and toss to coat. Set aside. Set the remaining cubes aside for serving.
Place the pineapple halves into the grill pan, cut side down, and cook until golden and caramelised. Remove from the pan and set aside.
Open the banana leaves, remove the sticky rice and wrap around a piece of coconut covered grilled pineapple. Roll into the desiccated coconut and set aside for serving.
For the Date and Honey Filling, place the dates into a small bowl and cover with ½ cup warm water. Set aside to soften for 15 minutes. Drain well and transfer to the canister of a stick blender. Process to a paste then transfer to a medium size bowl.
Add the coconut, honey and 2-3 tablespoons ginger infused water and mix together with fingertips to make a soft crumbly mixture. Season with salt to taste.
To serve, place the Grilled Pineapple Boats onto a large serving plate. Sprinkle Date and Honey Filling into each pineapple half. Add half of the Grilled Pineapple cubes and top with the Sticky Rice Balls. Sprinkle with more Date and Honey Filling and top with remaining pineapple cubes. Serve with the Yoghurt and Coconut Ice Cream on the side.