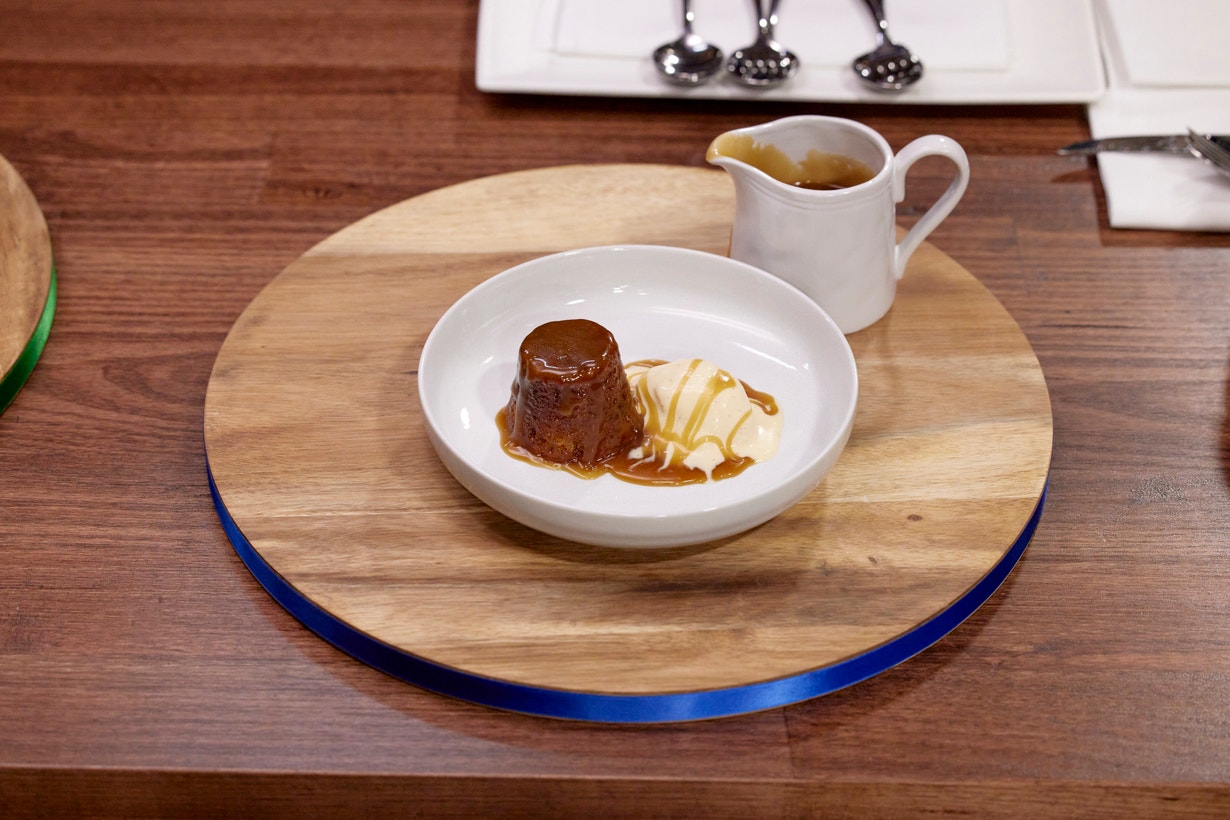 Ingredients
Bourbon Butterscotch Sauce
Steps
Pre-chill an ice cream machine and preheat oven to 180°C fan-forced. Prepare an ice bath in a large bowl.
For the Vanilla Ice Cream, place cream, milk and vanilla pod and seeds into a saucepan over medium heat and bring to a simmer. Remove from the heat and allow mixture to infuse for at least 15 minutes.
Meanwhile, place egg yolks, glucose, sugar and salt into the bowl of a stand mixer. Whisk until well combined and slightly thickened.
Whisk one third of the vanilla-infused milk mixture into the egg yolk mixture, then whisk the remaining milk mixture into the egg yolk mixture and return the whole amount to the saucepan. Place over medium heat, stirring constantly until mixture reaches 84°C on a thermometer.
Remove from the heat and strain through a fine mesh sieve into a clean bowl. Set over a bowl of ice to chill.
Churn in pre-chilled ice cream machine according to manufacturer instructions. Place in a container and set aside in the freezer until ready to serve.
For the Sticky Date Pudding, butter and flour 12 metal dariole moulds and set aside on a tray.
Place water in a saucepan over high heat and bring to a boil.
Meanwhile, chop dates to approximately 1cm in size and place into a heat-proof bowl. Add bicarbonate of soda. Once water is boiled, pour water over the dates and mix briefly. Set aside for 30 minutes.
Meanwhile, place butter, sugar and salt in a stand mixer fitted with a paddle attachment on high speed for 5 minutes or until very light and creamy. Add egg and egg yolk and continue to mix on medium speed for 2 minutes, or until well combined.
Remove bowl from the mixer. Add self-raising flour to the creamed butter and egg mixture and use a silicone spatula to gently fold ingredients together until almost fully combined. Add the date mixture and continue to stir with the silicone spatula until the mixture is fully combined.
Divide the mixture between the dariole moulds. Bake until a skewer inserted into the middle of the puddings comes out with a few moist crumbs clinging to it, about 20 minutes.
Remove the puddings from the oven and stand for approximately ten minutes before inverting onto a wire rack. Set aside at room temperature until ready to serve.
For the Bourbon Butterscotch Sauce, place sugar, butter and cream in a saucepan and place over medium high heat, stirring constantly, until the mixture begins to boil. Reduce the heat to low and simmer, stirring continuously, for five minutes.
Add 30ml bourbon to the sauce and boil for a further minute, then remove from the heat. Allow to stand for 5 minutes, then add remaining 30ml bourbon and salt, to taste. Set sauce aside at room temperature until ready to serve.
To serve, place puddings into serving bowls and pour sauce over the top. Add ice cream and serve immediately.