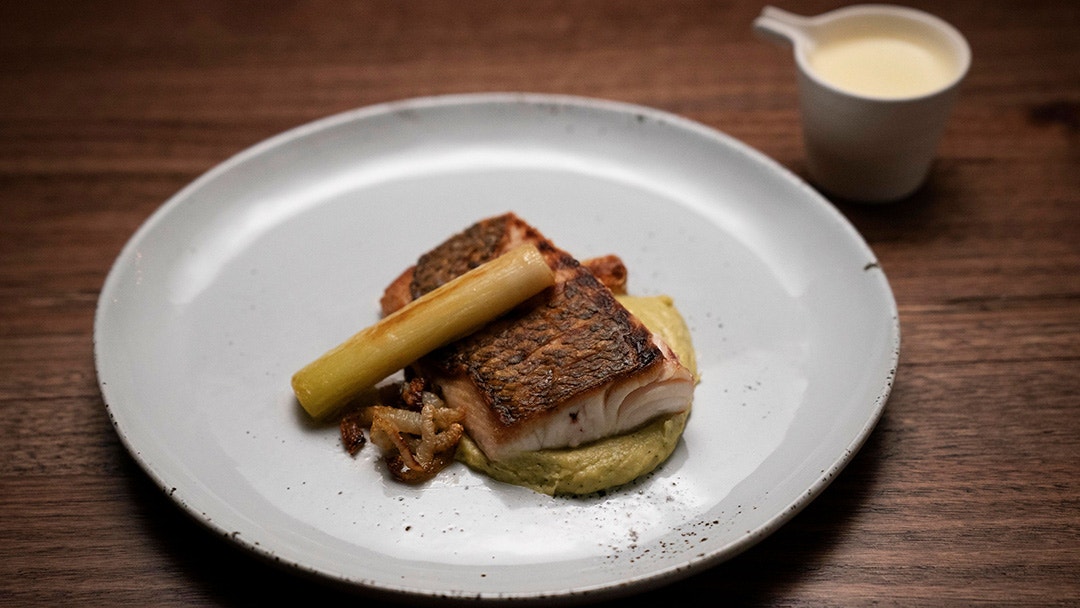 Steps
Preheat oven to 180C.
For the Leek Puree, place the butter into a medium frypan over low heat. When hot, add the leeks, thyme and dill and sauté until soft and lightly golden. Season generously with salt and add the lemon zest.
Remove from the heat and discard the thyme sprigs.
Transfer the leeks to a small food processor and process until smooth. Add the cream and extra butter. Add a little chicken stock if required to achieve a soft puree.
Pass the puree through a sieve into a bowl and season with salt and pepper. Cover with cling film and set aside.
For the Roasted Fennel and Garlic, place the fennel, garlic and thyme into a shallow roasting tray. Drizzle generously with olive oil and season.
Roast in the oven until fennel is tender, about 30 minutes. Remove from the oven. Discard the garlic skins. Set aside, loosely covered to keep warm.
For the Braised Leek, bring a small saucepan of salted water to the boil.
Add the leeks and simmer until just tender, about 15 minutes. Drain then cut the leeks in half lengthways.
Place the stock and butter into a medium frypan over low heat.
Add the leeks, cut side down, and braise until the liquid has evaporated and the leek is lightly golden.
Remove the pan from the heat and set aside until needed.
For the Lemon Beurre Blanc, place the wine and vinegar into a small saucepan over medium heat and simmer until reduced to 2 tablespoons. Add the lemon juice and stir through.
Add the butter, one piece at a time and use a stick blender to blend until the sauce is emulsified, smooth and thick. Remove from the heat and season. Cover to keep warm. Stir over a low heat before serving.
For the Spangled Emperor, score the skin lightly and season generously with salt.
Place a large frypan over high heat. Add the olive oil. When hot, place the fish into the pan, skin side down and press down with a spatula.
Cook until skin is crispy, about 4 minutes. Turn fillets and cook until just cooked through, about 2-3 minutes. Remove from the pan and set aside.
To serve, spoon the Leek Puree onto each plate. Top with a portion of Spangled Emperor and add the Braised Leek, Roasted Fennel and a clove Roasted Garlic. Serve with the Lemon Beurre Blanc on the side.