All Recipes
Sous Vide Trout with Confit Leeks, Fennel Purée, Mussels and Pipis with a Lemon Buerre Blanc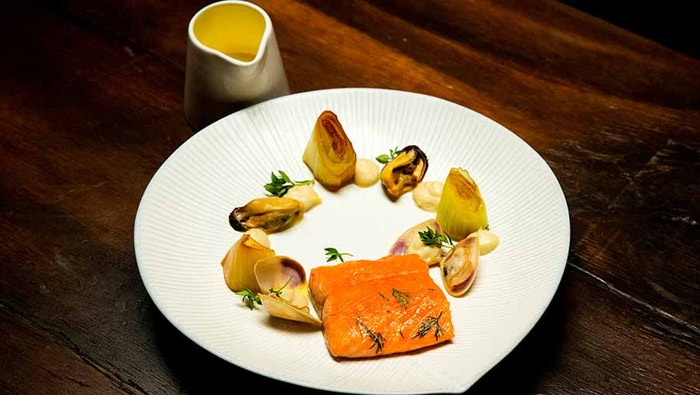 Steps
Fill sous vide machine with water and turn on to 50C.
For the Lemon Beurre Blanc, place ocean trout bones, shallots, white wine, peppercorns, lemon zest, sugar and 300ml of water into a large pot over high heat and bring to the boil. Reduce heat and simmer for 30 minutes. Strain liquid through a fine sieve into a clean saucepan and place back onto medium heat until reduced by half, about 4-5 minutes. Remove from heat and gradually add in butter, whisking in between each addition until melted. Whisk in lemon juice and cream and season to taste. Transfer to a pouring jug and set aside until needed, keeping warm.
For the Fennel Purée, place butter, oil and fennel into a medium saucepan over medium heat and cook, stirring occasionally, until fennel has just softened. Add milk, reduce heat to low, and simmer for 15 minutes. Remove from heat and strain fennel, reserving cooking liquid. Place fennel into a blender and blitz to a smooth purée, adding reserved cooking liquid to loosen if required. Transfer to a squeeze bottle and set aside until needed.
For the Confit Trout, place trout fillets into a vacuum seal bag with oil, dill, some salt and pepper and seal. Add vacuum bag to the preheated sous vide machine and cook for 30 minutes. Once cooked, remove from sous vide machine and set aside until needed.
For the Leeks, melt butter in a medium saucepan over low heat. Add leaks, ensuring they are fully submerged in the butter and cook until completely soft, about 20 minutes. Remove leek pieces from butter and set aside until required.
For the Mussels and Pipis, place a medium frypan over medium heat. Add oil, garlic and shallots and sauté until softened. Add mussels to the pan and cook for 1 minute then add pipis and white wine, careful as the alcohol will flame. Cook until mussels and pipis have opened then remove from heat. Remove the mussel meat from their shells and discard shells.
To plate, carefully remove a piece of the Confit Trout from the vac bag and allow excess oil to drain off. Place an ocean trout fillet, skin side down, onto one side of the plate. Arrange a few pieces of Leek, Mussels and Pipis in a circular shape around the plate then finish with some thyme leaves. Whisk reserved Lemon Beurre Blanc to re-emulsify and serve on the side.