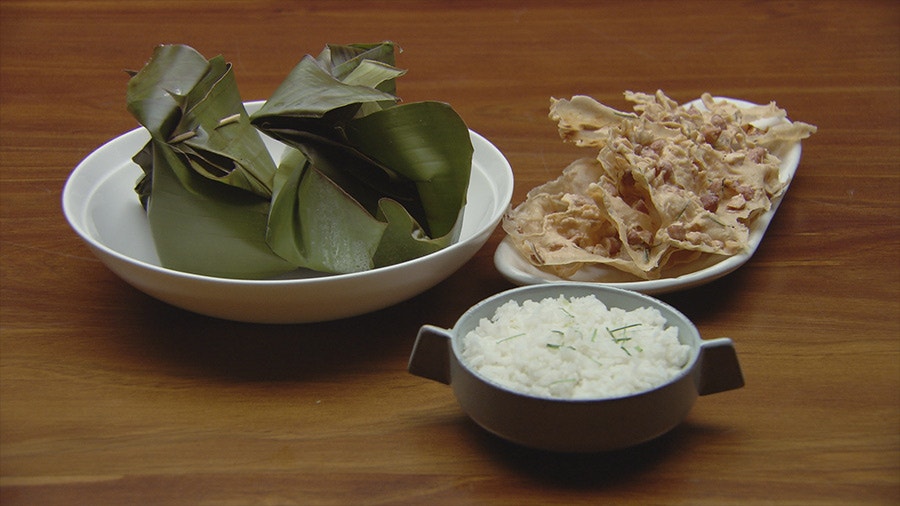 Steps
Place oil into a medium wok and heat to 180°C. Bring a large saucepan of water to the boil.
For the Peanut Crackers, combine the rice flour and tapioca flour in a medium bowl.
Crush the garlic, candlenuts and a little salt using a mortar and pestle until smooth.
Add to the flours. Add the coconut milk, egg yolk, coriander and 100ml water and whisk until smooth and combined. Add up to another 50ml water until a runny batter is achieved. Stir in the peanuts and kaffir lime leaves and season with salt.
Using a 1/3 cup measuring cup, carefully spoon some batter and peanuts slowly onto the inside edge of the wok about 4cm above the oil so that half of the batter sticks to the wok and the other half is in the oil, creating a curved cracker. Repeat with the remaining batter, in batches, as required.
Carefully spoon some hot oil onto the batter onto the inside of the wok and when it has set, release the batter from the side of the wok to finish cooking in the oil.
Fry until the peanuts are cooked and the crackers are lightly golden and crisp, about 7 minutes.
Remove from the oil and drain on paper towel. Season with salt.
For the Sour and Spicy Chicken, heat the oil in a wok over a medium heat. Add the chicken pieces and cook until browned. Add the garlic and shallots and cook for 1 minute until fragrant. Add the tomatoes, chillies, tamarind, lemongrass and kaffir lime leaves for about 3 minutes, then add coconut milk and 100ml water.
Bring to the boil, season with salt and coconut sugar. Reduce the heat to medium and simmer for 30 minutes until the sauce has thickened, stirring frequently.
Overlap the banana leaves to create a parcel. Transfer the Maryland portions with some sauce to the banana leaves. Fold the leaves to surround the curry and secure at the top with a toothpick.
Place onto a plate and into an extra large bamboo steamer. Steam over the saucepan of simmering water until the chicken is tender and cooked through, about 10 minutes. Remove the basket from the heat.
Meanwhile, bring a medium saucepan of water to the boil.
For the Lemongrass and Kaffir Lime Rice, add the rice and simmer until tender, about 12-15 minutes.
Heat the oil in a small frypan over low heat. Add the lemongrass and lime leaves. Pour over the rice and gently toss through with a fork.
Serve the Sour and Spicy Chicken with the Peanut Crackers and Lemongrass Rice on the side.