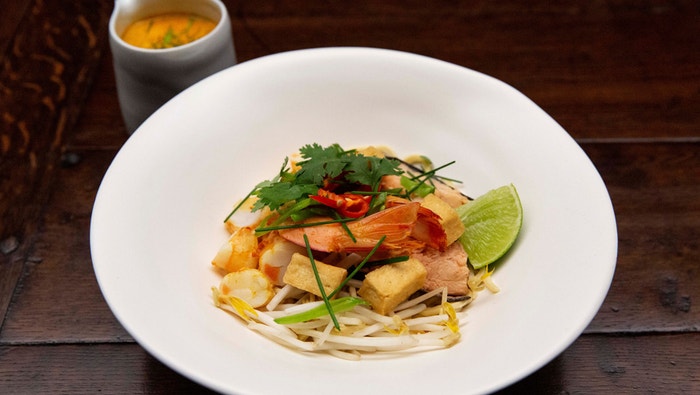 Steps
Bring a large saucepan of salted water to the boil.
For the Egg Noodles, place the flour, eggs and salt into a medium bowl and bring together to form a dough, adding 2-3 teaspoons water, if required. Knead the dough for 5 minutes until smooth then wrap in cling film and set aside to rest for 30 minutes.
Dust the dough in flour then pass through a pasta machine from the thickest to almost the thinnest setting. Pass through the spaghetti attachment and dust in flour to prevent the noodles from sticking together. Set aside on the bench until ready to cook.
For the Laksa Paste, heat the oil in small frypan over medium heat. Add the shrimp paste and fry until toasted and fragrant, about 1 minute. Remove from the heat and transfer to a food processor. Add the remaining ingredients and process to a smooth paste. Set aside.
For the Laksa Broth, place the oil into a large saucepan over medium heat. When hot, add the prawn heads and shells and fry until bright red in colour. Add the turmeric and coriander and fry for another minute.
Add the Laksa Paste, kaffir lime leaves, curry leaves and fry for until fragrant, about 5 minutes. Add the coconut cream and continue to cook on a low heat until the oil begins to separate from the cream. Add 500ml water, fish sauce (to taste), lime juice, coconut sugar and season with salt, to taste.
Strain the broth through a large sieve into a large saucepan. Bring to a simmer then add the prawns and cook until just cooked through, about 4-5 minutes. Remove from the broth and set aside on a plate. Slice half of the prawns into bite sized pieces and keep the remainder whole. Cover the broth and keep hot on a very low heat.
For the Tofu, heat the oil in a medium saucepan to 180C.
Cut the tofu into 2cm x 3cm portions and pat dry with paper towel. Season with salt. Fry in batches until golden. Remove from the oil and set aside on kitchen paper.
Cook the noodles in the boiling water until al dente, about 2-3 minutes. Remove from the water and divide between 4 deep soup bowls. Top with whole and sliced prawns, smoked trout and Fried Tofu. Add beansprouts, coriander, chilli, snow peas and chives. Pour the hot Laksa Broth around the edge of the bowls and serve immediately.