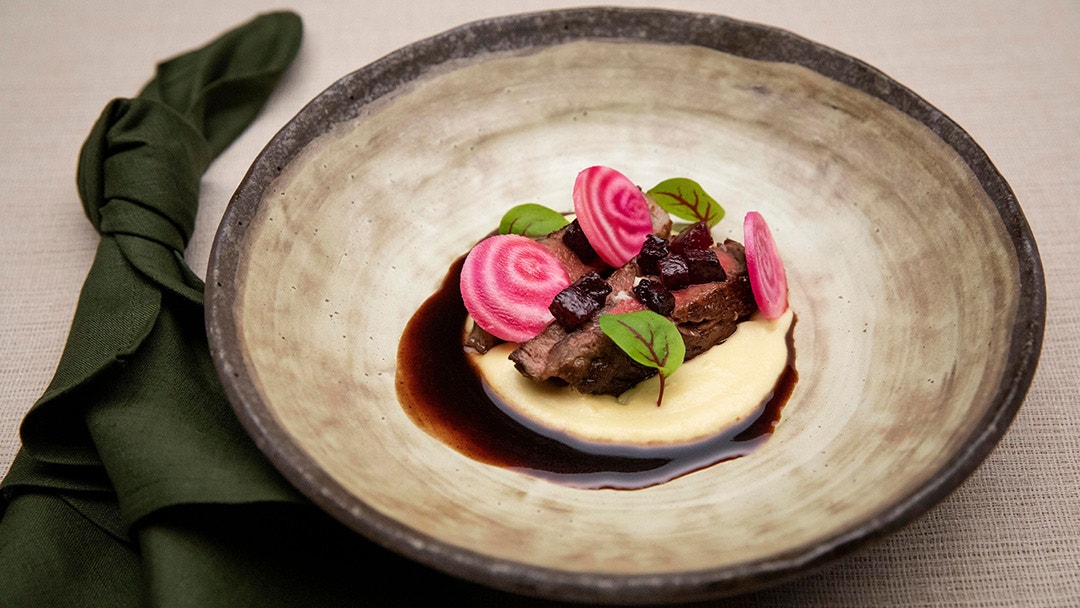 Steps
Preheat oven to 180C.
For the Beef Jus, place a large frypan over medium heat. Add the beef bones and cook until brown and caramelised, about 10 minutes.
Add the onion, carrot, celery, garlic and thyme to the pan and cook until the vegetables are golden and begin to soften, about 5 minutes.
Add the wine and boil until thickened. Add the stock and peppercorns and simmer for 20 minutes.
Strain through a fine sieve into a small saucepan and discard the solids. Return the liquid to the heat and simmer until thickened and reduced to about 180-200ml.
Add the vinegar, sherry and 1-2 teaspoons sugar, to taste.
Remove from the heat and whisk in butter, a little at a time. Season with salt and set aside. Rewarm gently and whisk to serve.
For the Roasted Beetroot, chop the beetroot into 2cm cubes.
Place into a roasting tray, drizzle with olive oil and season with salt and pepper. Add the rosemary sprigs and cook beetroots until soft, about 35-40 minutes. Remove from the oven and set aside.
For the Parsnip and Leek Puree, place the butter into a medium saucepan and place over low heat. Add the leek and sauté until soft.
Add the parsnip, milk and cream and bring to the boil. Reduce the heat and simmer until the parsnip is tender, about 25 minutes.
Using a slotted spoon, transfer leeks and parsnips to a blender, reserving cooking liquid. Add enough reserved cooking liquid and blend until smooth. Pass through a sieve and season with salt, to taste. Set aside.
For the Beetroot Slices, slice beetroots thinly on a mandolin and trim into circles with a round cutter. Place into a small bowl and set aside.
Place the oil, lemon juice and salt in a small bowl and whisk together with a fork. Add the beetroot slices and toss to coat. Set aside. Drain well and pat dry with a paper towel to serve.
For the Seared Wagyu Beef, place a large frypan or grill plate over high heat.
Cut the beef into 3cm thick steaks. Drizzle with olive oil and season with salt.
Cook the steaks for 2-4 minutes on each side or until cooked to your liking. Remove from the pan and set aside to rest. Slice each steak to serve.
To serve, spoon some Parsnip and Leek Puree onto each serving plate. Top with slices of Wagyu, Roasted Beetroot and Beetroot Slices. Spoon the Beef Jus onto the plate and garnish with micro herbs.