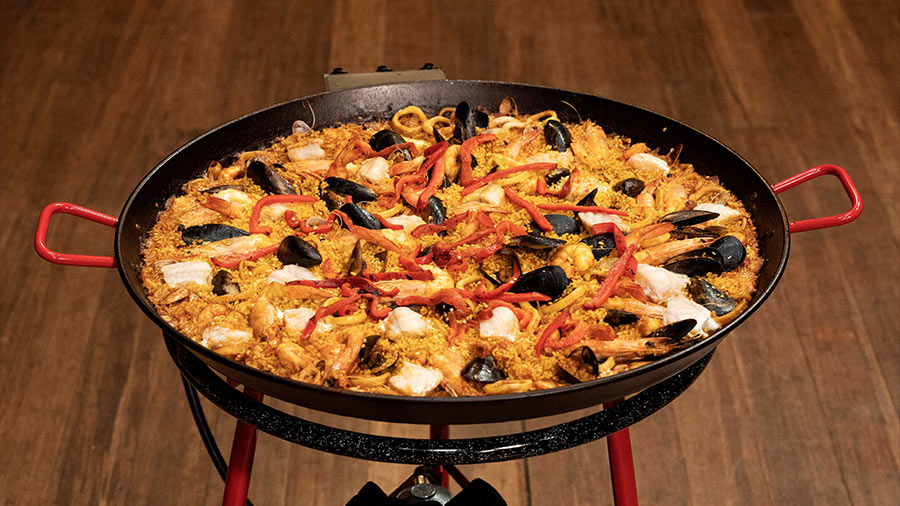 Steps
For the Seafood Stock, peel and devein the prawns. Place peeled prawns into a bowl in the fridge until required. Remove claws from the crab and cut the body in half lengthways.
Place a large saucepan over high heat and add the olive oil to warm. Add the prawn heads, prawn shells and crab. Allow to cook on high heat, stirring to avoid shells from burning until shells are bright orange.
Add celery, onion and carrot to the saucepan and cook for 3-4 minutes, stirring continuously.
Add the bay leaves, peppercorns and water and bring to the boil.
Reduce the saucepan to medium heat and simmer stock for 30 minutes or until reduced by a third.
Meanwhile for the Paella, peel the prawns, keeping the head and tail attached.
Fillet the rockling, keeping the skin on. Cut into approximately 5cm x 5cm pieces. You'll need 300g total.
Remove the wings and tentacles from the calamari and discard. Clean the inside of the calamari tube and cut into 5mm thick rings.
Remove the beard from the mussels.
Once the stock has finished simmering, strain the stock through a fine sieve into a large measuring jug.
For the Paella, heat a 34cm paella pan over high heat. Add the olive oil to warm.
Add the calamari to the hot oil and cook for 1 minute. Add the prawns and cook for 1 minute. Add the mussels and pippies and cook for 1 minute, stirring to cook evenly. Move the seafood to the sides of the pan.
Add garlic to the centre of the pan and cook whilst stirring for 1 minute. Add the crushed tomato and smoked paprika to the centre and cook for 1 minute.
Add 550ml of the seafood stock, the bay leaf, saffron threads and saffron powder and stir. Bring to the boil and reduce by a quarter. Season generously with salt.
Sprinkle the rice into the pan, ensuring that it is evenly spread throughout. At this point you can add additional stock if required. The rice should be fully submerged in the stock. Bring stock back to the boil.
Reduce the pan to low heat and gently simmer for 15-20 minutes. Halfway through, place the rockling into the rice in a symmetrical pattern, pushing down to submerge into the stock. Do not stir the pan at any point moving forward.
Meanwhile, place the capsicum over a high heat flame. Cook for 10 minutes, using tongs to turn and cook all sides evenly. When charred all over, place the capsicum in a bowl, cover with plastic wrap and set aside for 10 minutes.
Remove the capsicum skin and seeds. Cut capsicum flesh into thin strips.
When the stock has been absorbed, listen for a crackling sound. Leave the paella to cook for a further 5-10 minutes or until you smell a subtle toasted rice aroma.
Scatter capsicum strips over the paella.