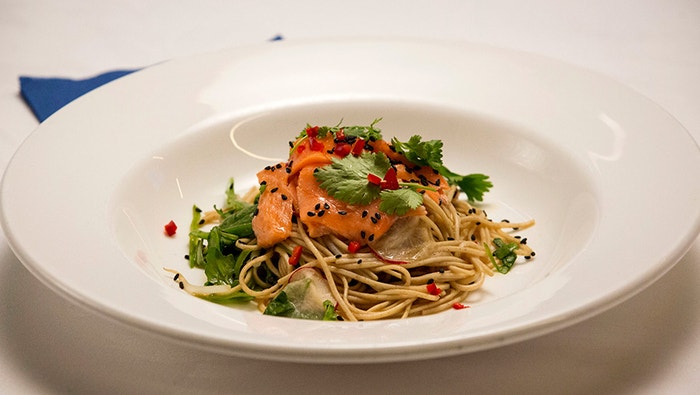 Steps
Pre-heat sous vide machine to 50°.
For the Soy and Ginger Dressing, place all ingredients in a mixing bowl and stir to combine. Set aside until serving.
To prepare the Raw Vegetable Salad, place the snow peas, beans sprouts, and radishes in a bowl. Toss to combine and place in fridge until serving.
For the Salmon, season salmon fillets generously with salt and a little pepper. Place 3 portions of salmon into each of 4 sous vide bags. Add 30 ml olive oil to each bag, vacuum seal then place into sous vide machine until salmon is cooked, about 10 minutes. Or longer if more well cooked salmon is desired.
Remove bags from water then salmon from bags and place into a large bowl. Flake salmon into large pieces and set aside until serving.
For the Soba Noodles, sift buckwheat flour, high protein flour and salt into a large bowl. Add 170ml warm water to the flour mix and, using fingers, rub the flour with the water until well combined and crumbly.
Tip onto a work surface and press and knead until smooth, adding a little more water if necessary to form a soft, smooth dough. Divide dough into portions.
Dust work surface lightly with tapioca starch. Pass each portion through rollers of a pasta machine, working from widest to narrowest settings, dusting with more tapioca starch if needed.
Pass each rolled portion through spaghetti cutter to form noodles. Dust with extra tapioca starch to prevent noodles from sticking together.
Meanwhile, bring a large pot of water to a rapid boil. Cook the noodles for 45 -60 seconds. Using a noodle strainer remove the noodles and rinse under cold water. Drain and set aside in a large bowl until serving.
To serve, divide the Soba Noodles between 12 serving plates. Dress Raw Vegetable Salad with some Soy and Ginger Dressing and arrange on top of the noodles. Top with salmon flakes. Drizzle with remaining dressing and garnish with black sesame seeds, coriander seeds and red chilli.