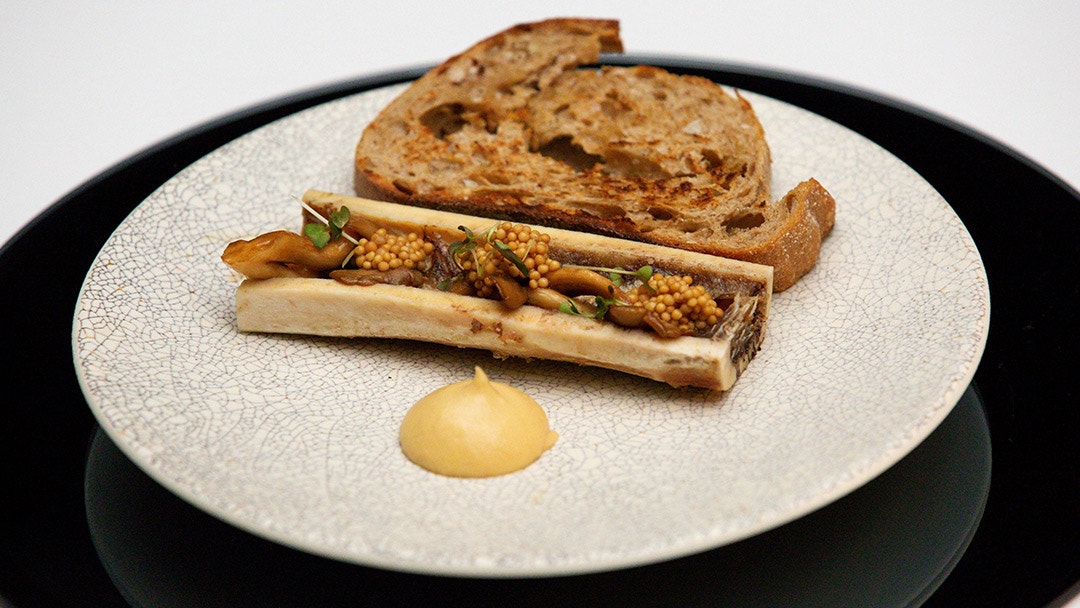 Steps
Preheat oven to 200C.
For the Onion Soubise, place the onions and butter into a medium saucepan over low heat.
Sauté onions until soft and caramelised, about 30 minutes. Remove from the heat.
Transfer onions and butter to the canister of a stick blender. Add the remaining ingredients and blend until smooth. Season to taste then transfer to a squeeze bottle and set aside.
For the Pickled Mustard Seeds, place ingredients and ½ cup water into a pressure cooker. Seal and cook on high pressure for 15 minutes. Release pressure and pour through a sieve. Reserve the mustard seeds until ready to serve.
For the Roasted Bone Marrow, use a sharp knife to scrape and clean the outside of the bones. Place the bones onto a wire rack set over a baking dish.
Drizzle with olive oil, season with salt and bake in the oven until soft and gelatinous, about 18 minutes. Remove from the oven and set aside.
For the Toasted Sourdough Rye, heat a flat grill plate over high heat.
Drizzle the bread on both sides with olive oil and sprinkle with salt. Cook until crisp and lightly charred on both sides. Remove from the grill and set aside.
For the Shimeji Mushrooms, place olive oil and mushrooms into a small frypan over high heat. Sauté until caramelised, about 3-5 minutes.
Add the remaining ingredients and toss through. Remove from the heat and set aside.
To serve, place the Roasted Bone Marrow into the centre of each plate. Top with some Shimeji Mushrooms, Onion Soubise and Pickled Mustard Seeds and garnish with micro red mustard leaves. Add a slice of Toasted Sourdough Rye.