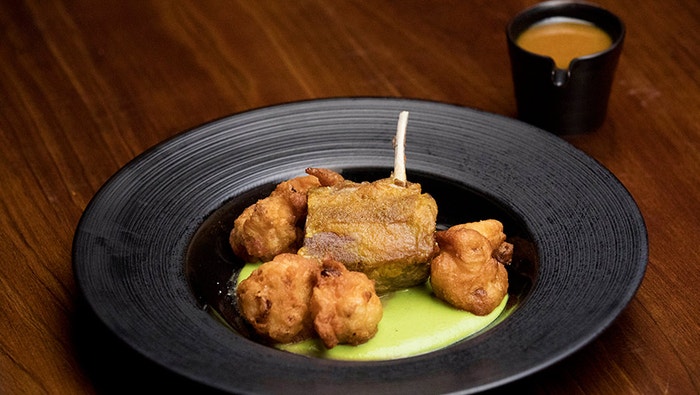 Steps
Preheat oven to 180C.
For the Lamb and Beer Jus, place olive oil into a frypan and set over high heat. Add lamb bones and trimmings and cook until brown.
Add beer and mustard and reduce the liquid to thick consistency. Add sugar, vinegar and butter and stir to combine. Strain into a clean saucepan, season with salt and pepper and set aside, keeping warm, until serving.
For the Roast Lamb, heat a large ovenproof frypan over medium high heat. Season lamb with salt, pepper and olive oil and add to the hot pan, fat side down. Sear until golden brown, about 2-3 minutes. Remove from heat and brush lamb with mustard.
Place into the oven and roast for 8-10 minutes, for medium-rare or until cooked to your liking.
Remove the lamb from the oven and rest for 10-15 minutes, until ready to serve.
For the Beer Battered Cauliflower, place oil in a medium saucepan and set over high heat to heat to 190C.
Meanwhile, place cauliflower florets in the top of a double boiler and steam for 10-15 minutes until almost tender. Remove from pan and set aside in fridge to cool.
Place the flour, salt and pepper in a bowl. Add beer and mix to a smooth batter. Set aside to rest for 10 minutes.
Dip cooled cauliflower florets into rested batter and allow excess batter to drain. Fry cauliflower, in batches, until golden and crisp. Remove from oil and drain on paper towel. Season with salt and set aside until serving.
For the Pea Puree, bring a small saucepan of lightly salted water to a boil. Add peas and cook for 1 minute then drain, reserving cooking water.
Place peas in the canister of a stick blender. Add butter, white pepper and about 60ml reserved cooking water and puree until smooth, adding more water if required. Pass the puree back to the saucepan, through a sieve. Season and set aside, keeping warm, until serving.
To serve, carve lamb into portions 3 cutlets wide. Trim fillet from 2 bones leaving only one bone on the portion.
Spoon Pea Puree into the centre of four serving plates and spread into a circle. Place the Roast Lamb into the centre of the Pea Puree and place the Beer Battered Cauliflower around the lamb. Transfer the Lamb and Beer Jus to a serving jug and serve on the side.