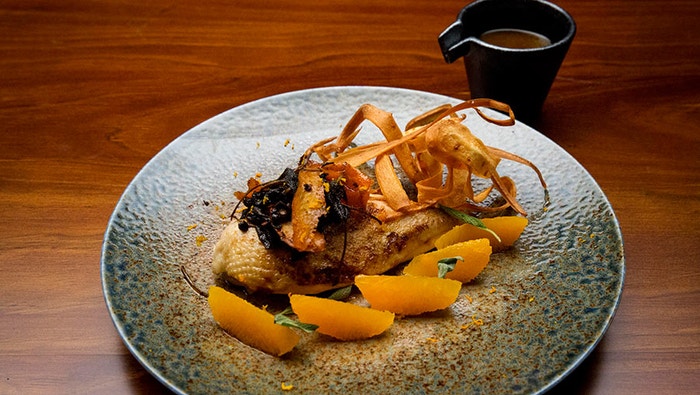 Steps
Preheat oven to 180C.
Prepare the chicken by cutting between the thighs and breast to separate the crown section. Place crown into a large bowl and set aside. Roughly chop lower half of chicken and reserve for the chicken stock.
For the Roasted Chicken, add 50g butter, orange zest and juice, cinnamon stick, salt and mixed peppercorns to the bowl with the chicken crown and turn the chicken to coat with marinade. Set aside to marinate at least 20 minutes.
Spread sage leaves over a lined baking tray and drizzle with remaining 50g butter. Bake until crisp and brown, about 10-15 minutes. Remove from oven and set aside.
Heat a large ovenproof frying pan over a medium high heat. Add the marinated chicken crown and brown all over. Add browned sage leaves then transfer to oven to roast until cooked through and juices run clear, about 30-35 minutes.
Remove from oven and allow chicken to rest for 10 minutes. Transfer chicken to a chopping board, reserving pan with juices. Remove browned sage from the pan and set aside for garnish.
Meanwhile for the Chicken Stock, place the chopped chicken into a large saucepan. Add onion, celery and 2 cups water and bring to a boil over high heat.
Reduce the heat and allow stock to simmer, until reduced, about 20-25 minutes. Remove from heat, strain, reserving peppercorns, season with salt and set aside.
For the Parsnip Chips, place oil in a medium saucepan and place over high heat. Heat until 190C.
Slice the parsnip into thin slices, using a mandolin. Add the slices to the hot oil, working in batches if necessary, and fry until golden brown.
Remove slices from oil and set aside to drain on kitchen paper. Season with salt.
For the Jus, add strained chicken stock to reserved frypan of pan juices. Add orange juice and whisk together. Place over a low heat and allow to gently simmer, until reduced to a thick consistency, about 5-6 minutes.
Stain jus into a small jug for serving.
To serve, slice chicken breasts from crown and place a breast onto each serving plate. Add Parsnip Chips and garnish with reserved browned sage and peppercorns, segmented oranges, orange peel and zest.