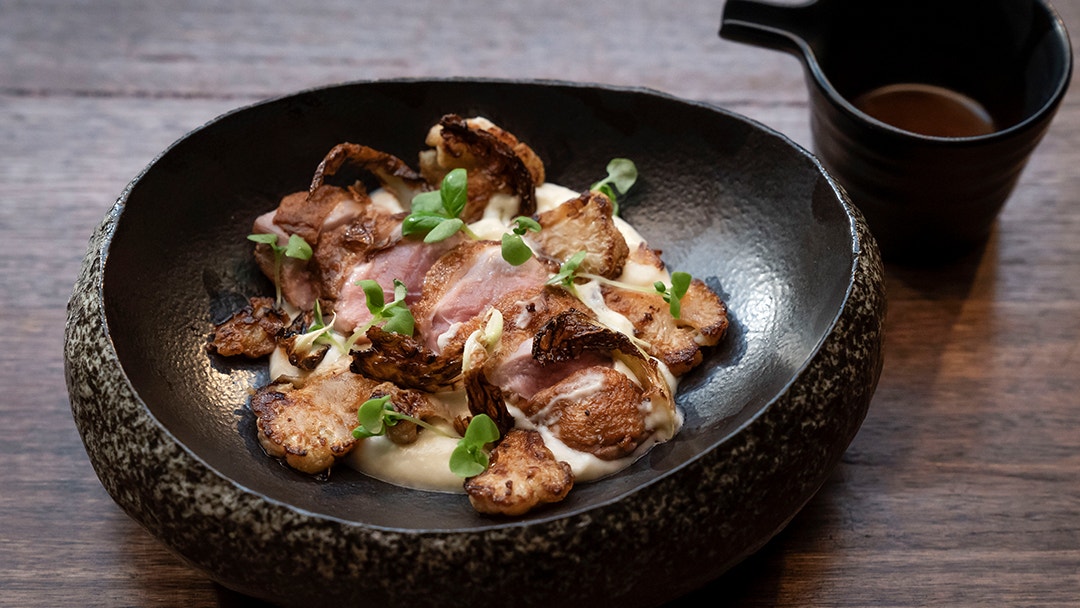 Steps
For the Quail, using a sharp knife, remove the spine and legs from the quails, leaving the breast attached to the rib cage (on the crown.) Remove the wings and neck and reserve along with the spine and legs.
When ready to serve, place oil and butter into a small frypan over medium high heat. Season quail crowns with salt and pepper. When the butter is foaming, add the crowns and cook, turning until evenly browned and meat is medium rare, about 3 minutes. Remove from the pan and set aside to rest.
For the Mandarin Sauce, heat olive oil in a medium frypan over medium high heat. Once hot, add the quail bones and garlic and fry until golden. Add the tomatoes and cook for a further minute. Add the wine, then the peel and juice of the mandarins and enough water to cover the bones. Bring to the boil then reduce the heat and simmer for 25-30 minutes, topping up the water as needed. Strain the sauce through a muslin cloth lined sieve into a clean saucepan. Stir in the butter and balance the flavour with vinegar, salt and sugar, to taste.
For the Cauliflower Puree, reserve the cauliflower leaves. Reserve 2 florets and slice thinly. Set aside. Dice the remaining cauliflower and place into a small saucepan with milk and bring to the boil. Reduce the heat and simmer until the cauliflower is tender. Transfer cauliflower to a food processor. Add butter and enough hot milk to blend to a thick puree. Pass through a sieve and season to taste.
Heat the oil and remaining butter in a frypan over medium high heat. Add floret slices and leaves and cook until tender and golden and the leaves are crisp. Season with salt and pepper to taste.
To serve, spoon cauliflower puree onto serving plates. Carve the quail breasts from the crown and slice each fillet. Arrange over the puree, along with cauliflower florets and crisp leaves. Garnish with micro basil leaves. Serve the sauce in a jug on the side.