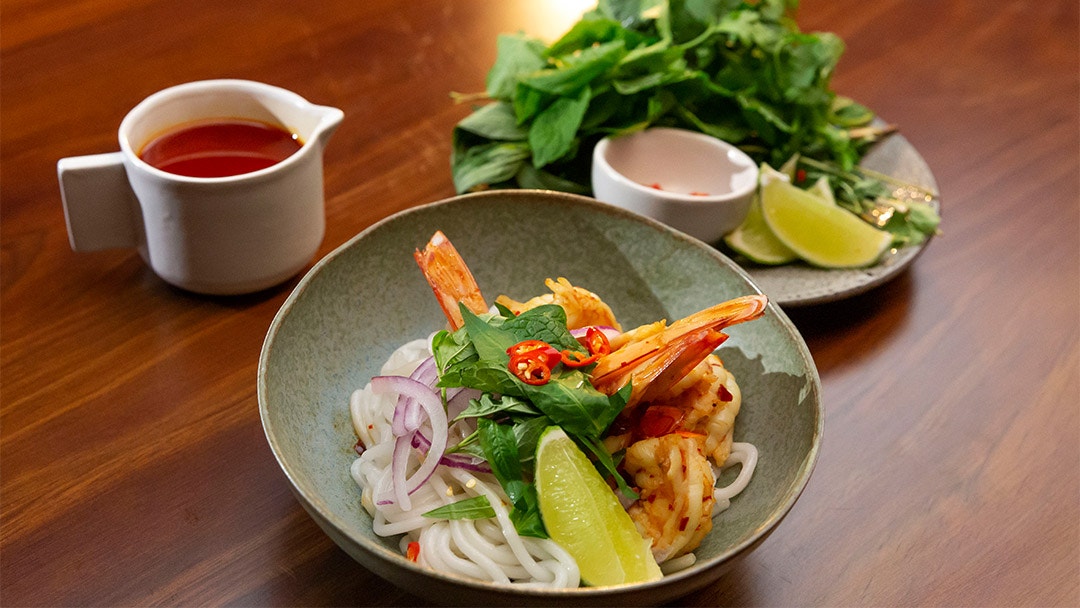 Steps
To prepare the prawns, remove heads from prawns and peel away shells. Chop shells and set aside. Devein peeled prawns and set aside in the fridge.
For the Chilli Paste, place all ingredients into a food processor. Process to a smooth paste and set aside.
For the Prawn Stock, heat a large saucepan with 3 tablespoons oil over low heat. Add the prawns head and shells and dried chillies and cook until the shells change colour and caramelise.
Using a potato masher, press on the prawn heads and shells to release liquid. Add the remaining 1 tablespoon oil and cook until liquid from the prawn heads has evaporated.
Meanwhile, bring chicken stock and 1 litre water to the boil.
Add to the prawn shells and simmer for 10-15 minutes. Remove from the heat.
For the Bun Bo Hue Broth, place the Chilli Paste, chilli soya bean paste, oil, lemongrass and red pepper into a large saucepan over a medium heat. Cook, stirring regularly, until fragrant and the oil turns a vibrant red colour.
Place a large sieve over the saucepan and pour in the Prawn Stock. Return to the boil and simmer for 10-15 minutes.
Season with salt to taste then pass through a sieve into a clean saucepan. Cover to keep hot.
For the Rice Vermicelli, bring a large saucepan of salted water to the boil.
Place 2 cups rice flour, tapioca starch, xanthan gum and salt into the bowl of a stand mixer bowl fitted with a whisk attachment.
Place the remaining 1 cup rice flour and water into a saucepan over medium to low heat. Whisk until the mixture becomes very thick and white.
Remove from the heat and allow to cool slightly.
Add to the dry ingredients and mix on low speed until combined.
Increase the speed to high and beat for 5-6 minutes until a creamy thick mixture is achieved.
Half fill a ricer with noodle mixture. Gently swirl the simmering water. Press the ricer to form noodles over the water and allow noodles drop into the water and cook for 2 minutes. Remove noodles and transfer to a large bowl of iced water. Clean the ricer between batches and continue with remaining noodle mixture. Once cool drain well then coat the noodles with oil. Transfer to four serving bowls.
Bring the Bun Bo Hue Broth to the boil. Add the prawns and simmer gently until just cooked through, about 2-3 minutes. Remove from the broth and arrange over the noodles. Garnish with onion, some Vietnamese mint leaves, mint leaves and chillies. Pour hot broth over the noodles and serve with the lime and remaining garnishes on the side.